El Camino
"Gold Of The Great Deceiver"
2013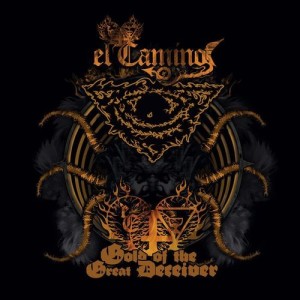 A Swedish band that calls themselves "the road" in Spanish must be a stoner/doom metal band right? Yep! I was expecting a totally different home of origin. While stoner/doom is usually a little slow for my taste. El Camino has a well produced album that kept my attention. The vocals fall into, at times, older Black Metal growls and the music reminds me of Sabbath, Candlemass with weird hints of Clutch due to some of the guitar tones. It can not go without mentioning a Danzig feel as well. 
The songs are more catchier than most of the doom metal that I have heard but it has the repetition and the groovy dragging feel you would expect. The album is solid and consistent and I enjoyed all of the songs..The stand out track for me is The One Of Evil.  As the album progresses it gets a bit more melodic. 
I think fans of Electric Wizard and Bloody Hammers will like this. I RECOMMEND the album to listen and buy.
El Camino also did a split album Rise and Shine covering one Venom Song each. El Camino covered In League With Satan.
Tracklist:
1. Gold Of The Great Deceiver
2. This Land Of Mine
3. Black Witch Love
4. Småland
5. Torn
6. The One Of Evil
7. The Wizard
8. Utmarsch 
https://www.facebook.com/elCaminocvlt
http://www.elcaminodoom.se/Home.html
Members:
D – Vocals
JS – Guitars
T – Bass
NH – Guitars
M – Drums
Rating 8 out of 10
~Alaric Hannibal Barca