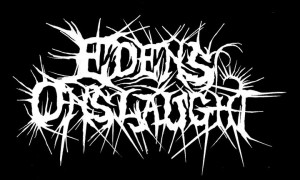 Eden's Onslaught originally formed in the San Gabriel Valley and currently consists of Guitar, Vocals, and Lyrics by Bill aka Di' Brom (pronounced "Die-braum"), Bass by Clint B., and Drums/backup vocals by Aaron (formally from DS8). This 3-piece is based solely upon intensity and forming sinister sounds that will brutalize your ears…

Eden's Onslaught started from ground on up, from backyard gigs to professional venues. It all began in the summer of 2004 as a side-project which then progressed into a full time self produced Black Death Metal band.

Eden's Onslaught delivers you some of Los Angeles true underground black death metal which will bring thoughts of malice, death, suffering, murder, and the total annihilation of all human ignorance in this world. Our music isn't only out to entertain, but also the stimulus of total and utter human destruction.

We are a dedicated band that harness both American and European influences. We wish to present the next black death metal onslaught to American soil in order to shatter all the corporate crap that is polluting record stores and air waves. Ultimately, our music is that of utter destruction to the populous of all mankind…..

Former "fallen members" of the onslaught (in order):

Andrew "Roach" Heavelin (Eden's OnslaughtEO's 1st lead guitarist 2004-2005)
Dana "D-Pain" Godinez (Eden's OnslaughtEO's 1st bassist 2004-2005)
Ryan "aka Mr.New York" (keyboards 2004-2005)
Ryan Barge (rhythm guitar 2005-2006)
Joanie "Jaye Vampira" Tran/Schaffer (original member vocals/keyboards 2004-2008)
Ryan "Raeon" Hickman (bass 2005-2009)
Hector "Zerion" Griego (lead/rhythm guitar 2006-2010)
Josh "Blackheart/Blastphemy" Childs (original member drums 2004-2009)
Melissa "Gomorrah" Rivera (bass 2010-2010)