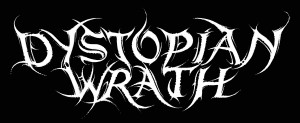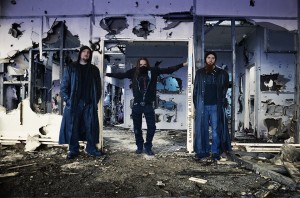 Summon: How did the band get started?
Andy: Damon and I have been working together on various projects for about 6 or 7 years, always trying to compromise on style to fit in everyone's tastes.  But around 2011 we decided that the combination of musicians and sacrificing our specific desires wasn't working, so killed that project and formed "Dystopian" as a 2 man studio project which later became "Dystopian Wrath".
Summon: What kind of music do you play?
Andy: A blend of Symphonic, Post and Traditional Black Metal.
Summon: How has the fan response been?
Andy: Better than anticipated, considering we're yet to even hit the stage.  We've had some amazing feedback from fans and some of the compliments from our peers within the UK Black Metal industry have been breath taking.  We've received praise and support from people that we've looked up to for years.  Few things beat the feeling of turning your favorite musicians into your fans.
Summon: Where did the band name come from?
Andy: Damon suggested the Dystopian theme for the band as standard and I found it appealing as it is an ideal setting for my writing style.  For many years I've watched the world around us evolve in one hand whilst lowering itself in the other and would argue we are already on the brink of a Dystopian existence.  The Wrath part is the ferocity of the delivery of our message!  The name describes everything we represent perfectly. 
Summon: Introduce the band members and what they do in the band.
Andy Wyldstone: Vocals
Damon Thompson: Guitars
Mike Carroll: Bass
Dan Tregenna: Guitars
Louis Cornish: Drums
Jorge Afonso: Keys
Summon: Who writes the music? Lyrics?
Andy: All lyrical content and music is currently written and composed by myself and Damon, though we are looking more and more into incorporating our other members into the writing process too.
Summon: And where do the lyric ideas come from?
Andy: Mostly personal experience.  Things I see that anger, frustrate or upset me.  Things I've been through in the past and concerns I have for both mankind's future and my own.
Summon: What is your view in Satanism and Occultism?
Andy: Though many of my views coincide with those of Anton Szander LaVey, I am by no means a Satanist and neither is anyone else in the band.  We believe in science, observation, education and self discovery in terms of seeking answers and guidance in life.  Having said that, with so much in this world being unexplainable I wouldn't write off the possibility of some kind of "god" or "Satan", but if they do exist, they probably find it very frustrating tolerating all the lies spoken in their name.
Summon: How many albums/CD's have you released?
Andy: Just the one self titled EP so far which went out on CD only in late 2013.  It's just been relaunched digitally for the first time for free download via soundcloud to meet the demands of the new generation of digital music fans.
Summon: Tell me about some the songs on the latest CD?
Andy: 4 deliberately picked tracks, designed to show a range of what we can do.  There is a range of styles on the EP.  We wanted our first release to show as much variety as possible and create different types of atmosphere so that people never know quite what to expect.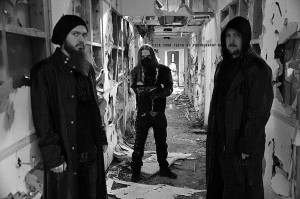 Summon: Do you have any side projects?
Andy: Yes, Damon plays bass for a Tech Death band called "The Florentine Camerata" which is also the former band of our drummer.
Summon: Who are some of your musical influences?
Andy: Bathory, Emperor, Hecate Enthroned, Behemoth, Immortal, Opeth and Bal Sagoth spring to mind as some of the main, long term influences but I could literally give you 100's of bands all worthy of answering such a question with. 
Summon: Which current bands?
Andy: A lot of British Black Metal in recent times.  The quality of UKBM in recent times has been outstanding.  Primitive Graven Image, Hecate Enthroned, Eastern Front, Sidious, Ethereal, Cnoc an Tursa, Anaal Nathrakh and Winterfylleth are all producing amazing material and I can only see things going from strength to strength. 
Summon: What do you think of the US Black Metal/Death Metal scene?
Andy: Deicide and Dying Fetus are my favorite US bands but the latest releases by Cattle Decapitation & Hate Eternal are exceptional.  Black Metal wise Wolves In The Throne Room stand out by a long way to me.  I've recently got into a band called Black September and we also enjoy Agalloch & Black Funeral.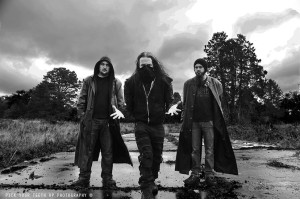 Summon: What do you think of the Overseas scenes?
Andy: We find ourselves most inspired by the scenes of Norway, Sweden, Finland, Germany & Poland.  Countries we've all traveled to between us and countries we'd all be honored to play.
Summon: What are some of new favorite black metal/death metal bands?
Andy: Ninkarsarg from the UK are my favorite new Black Metal band at the moment. Necrosis have probably released the best new Death Metal I've heard in recent times.
Summon: When do you guys plan on writing any new material?
Andy: We've got plenty of stuff ready to go, it's now just a case of balancing life, money & music to get move things forward.  We're in the process of writing our debut album, with about 3/4 of the work done.
Summon: What does the future hold for the band??
Andy: Finally hitting the stage in 2016 and hopefully getting the album released.   With Eradication 2016 in Wales confirmed so far, and talks with a few others in progress 2016 should hopefully be the year we finally get to show people the full extent of what we are capable of.  
Contact them at:
http://www.facebook.com/dystopianwrath
https://soundcloud.com/dystopian-wrath
https://www.reverbnation.com/dystopianwrath
https://www.youtube.com/watch?v=HzbONgGRl8g
("Woman of Dark Desires" – Bathory Cover Video)