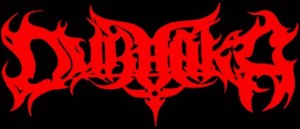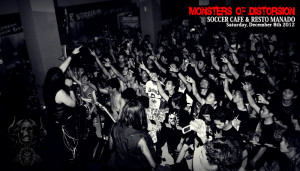 Summon: How did the band get started?
Leonardo: The band was formed in 1996 in Manado, a small town located at the north coast of Sulawesi Island, Indonesia.
Summon: What kind of music do you play?
Leonardo: We started playing trash metal. Our style constantly changing as result of numerous changes in the band lineup.
Summon: How has the fan response been?
Leonardo: The fans are fantastic! And that's what pushes us to stay exist today.
Summon: Where did the band name come from?
Leonardo: DURHAKA is an Indonesian word, can be loosely translated as blasphemy. Aesthetically, it match with our music.
Summon: Introduce the band members and what they do in the band.
Leonardo: Our current line up: Leo [screamer], Witho [guitar], R'win [guitar], Billy [bass], Ajhie [Keyboard] dan Buddy [drums].
Summon: Who writes the music? Lyrics?
Leonardo: Witho composes the music, Leo writes the lyrics, that simple.
Summon: And where do the lyric ideas come from?
Leonardo: Imagination, myth, reality, horror books.
Summon: What is your view in Satanism and Occultism?
Leonardo: We speak occultism, we speak culture and it may differ between yours and ours. Occultism is part of our society far before major religions ever set foot here. Worshiping sacred objects and ancestral spirits, summoning them to possess human and other practices are still exist and even celebrated. People practice occultism, and call it culture inherited from the ancestors. As for Satanism, we see it as a religion.
Summon: How many albums/CD's have you released?
Leonardo: Our debut album was released independently on December 31, 2011. 300 copies distributed in Indonesia, Holland, France and Japan. We also provide free download of our songs in ReverbNation. On October 2012, the album re-released in Ukraine by Depressive Illusions Record, followed by Blackwind Production in Malaysia on December 2012. We have completed an agreement with Indonesian label Air Tuhan Record to re-release our album in Indonesia on June 2013. We are also in process of sending our master tracks to Satanic Record in Mexico and Satanica Record in New Zealand for re-release.
Summon: Tell me about some the songs on the latest CD?
Leonardo: God Bless Blasphemus is actually one song, but split into two song because it's too long. The song has a character named Blasphemus, and as the name suggest, it's about blatant blasphemy.
Summon: Do you have any side projects?
Leonardo: No.
Summon: Who are some of your musical influences?
Leonardo: Mostly metal bands, and movie composers.
Summon: Which current bands?
Leonardo: Sepulutra, Obituary, Messiah, Dimmu Borgir.
Summon: What is the band like when you play live?
Leonardo: Just like other black metal bands, leather costume, new-rock boots and depends on the event, corpse paint.
Summon: Have you guys ever played in another country?
Leonardo: Not yet…
Summon: How big of crowd shows up at shows usually?
Leonardo: More than 300.
Summon: How is the crowd response when you play?
Leonardo: They always went crazy, and we love that! Sing along the lyrics loudly, devil horn on the air, shouting wildly, fierce expression, jumping and headbanging… feels like they give us the power of darkness.
Summon: What do you think of the US Black Metal/Death Metal scene?
Leonardo: We have lack of reference for US black metal scene, but we can see death metal is growing fast there.
Summon: What do you think of the Overseas scenes?
Leonardo: Norway, England, and Sweden are countries with huge black metal scene.
Summon: What are some of new favorite black metal/death metal bands?
Leonardo: Carach Angren from Holland and Watain from Sweden
Summon: When do you guys plan on writing any new material?
Leonardo: We are currently working on it. If things go according to plan, we will release our second album at the end of 2013.
Summon: What does the future hold for the band??
Leonardo: We will work hard to make our band heard across the globe.

Contact them at:
https://www.facebook.com/durhaka
http://www.reverbnation.com/DURHAKA
Band Contact :
0852566612012 (Leo)
Email: Durhaka.Band@gmail.com