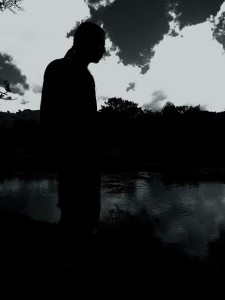 Summon: How did the band get started?
Diego: The band began in mid-2011, has always been a project of one person, after experimenting with various projects within the genre "Black Metal or Ambient Black Metal" want something more "Atmospheric" and able to show new intentions and new sounds, converting the music to something more momentous and emotional.
Summon: What kind of music do you play?
Diego: The music I play is instrumental with some environmental air, I like that when listening takes you to different moments in your life or see different horizons, the resuscitation of the spirit and fullness of solitude.
Summon: How has the fan response been?
Diego: I am very impressed! I see that you are listening everywhere, I receive daily messages to purchase physical copies, the answer to my country has also been good, but Europe is more extensive.
Summon: Where did the band name come from?
Diego: My biggest influence to make music, is NATURE, feeling each of the energies that can give you compose, so I decided to call this way.
Summon: Introduce the band members and what they do in the band.
Diego: Well the only member of the band is "L" which plays all the instruments, recording vocals, lyrics composed and editing music.
Summon: Who writes the music? Lyrics?
Diego: All lyrics writes "L" although the songs are more instrumentals.
Summon: And where do the lyric ideas come from?
Diego: In the first instance: Nature, spirituality, loneliness, melancholy. As is also inspired by some authors in literature.
Summon: What is your view in Satanism and Occultism?
Diego: For me all religions are equal… I prefer to think of something more cosmic, much more energy and spiritual. The occult respect him enough, I do not practice, I think that is complex, alchemy, astrology, I would love to know much about such issues, hidden things have always liked, call me much attention inquire and learn more about this.
Summon: How many albums/CD's have you released?
Diego: For now, just "Spirit Of Nature" at this point, I started to record the second production.
Summon: Tell me about some the songs on the latest CD?
Diego: Well, "Spirit Of Nature" is like walking through the most quiet and desolate landscapes of all, if you listen carefully you can experience spiritual fulfillment.
Summon: Do you have any side projects?
Diego: If really I have several projects. Some of them.
Dulvel – https://www.facebook.com/dulvel666
Hyperborea – https://www.facebook.com/hyperboreacol
Loneliness – https://www.facebook.com/lonelinesspostband
Nocturnus – https://www.facebook.com/pages/Nocturnus/226138544230898
Mist – https://www.facebook.com/pages/Mist/1442960119256726
Psicosis – https://www.facebook.com/psicosisdarkambient
Among Others …
Summon: Who are some of your musical influences?
Diego: Well musically inspired me a lot of classical music, The philharmonic orchestras. (It's like talking about the "Requiem" by "Giuseppe Verdi" – "Moonlight Sonata" from "Beethoven" – "New World Symphony" from "Dvorak" – "Tristan und Isolde" and "Ride of the Valkyries" from "Richard Wagner" – "Così fan tutte" of "Mozart" those are some of the works that have impacted me more. On the other hand, bands like "Summoning" – "Lustre" and "Burzum" are of my favorites.
Summon: Which current bands?
Diego: Lustre, Midnight Odissey, Elderwind, Alkaris.
Summon: What is the band like when you play live?
Diego: I've never really played live, nor goes through my head.
Summon: When do you guys plan on writing any new material?
Diego: At the moment I'm writing and recording new songs, I guess for the end of 2015, would be ready.
Summon: What does the future hold for the band??
Diego: For me it is difficult to talk about the future, possibly this dead in a few days (just kidding). I will continue writing and recording up to but not power!

Thanks!!!!!
Contact them at:
https://www.facebook.com/dreamsofnature1
http://dir666.bandcamp.com/album/spirit-of-nature