Doomster Reich
"The League for Mental Distillation"
2014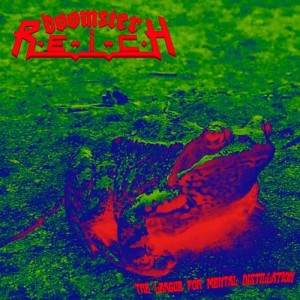 Doomster Reich is a four piece band from Poland. Members are, Radek- Bass, Rasz – Drums, Vox & SF, Voytek- Guitars, Markiz -Guitars. Genre described as doom metal.
The League for Mental Distillation released on June 2014 on The End of Time Records. This album consist of six tracks and totals just under forty five minutes. My first impression of the music is, traveling back to the early era of metal, bands like Venom, Sabbath, UFO and others from that time period. it is great to hear how they captured the essence of that time period. The production is in similar style. High reverb and chorus on the guitars. Like crossing a portal and transcending into the future. The band seems to have stepped right out of the late 70s and into the new millennium with this recording. 
With interesting titles like I "Ate Some Dessert Diamonds-When Zappa Wept", strange title aside, I really dug the solos in this track. Comfort of Conscious Demise is another song I found myself listening to for quite sometime, partly the crazy metal riffing and partly sexy girl voice having sex or something else, either way a fascinating listen for sure. "I'll Shoot You Down perked my ears, probably one of the more intense compositions found on this album. Consider how I rarely seek out this style of music. I am more drawn to death metal, slam and grindcore, I actually enjoyed this album very much. Refreshing even in an old school type of way.
My final thoughts, the music captures the roots of the early days of metal or hard rock, much of a psychedelic trip and feeling of long highway drives while in a drunken and high mental state, the songs are journey through time and I found myself jamming along after several minutes. The odd song titles and crazy lyric content keep things interesting and are worth exploring.
Tracklist:
1. John Woe
2. I Ate Some Desert Diamonds – When Zappa Wept
3. Comfort Of Conscious Demise
4. Pornozopher's Dream 2
5. I'll Shoot You Down
6. In Storms
https://www.facebook.com/doomsterreich
Members:
Markiz – Guitars
Radek – Bass
Rachu – Vocals/Drums/SFX,
Michal – Live Drums
Rating: 7 out of 10
~Artemortifica