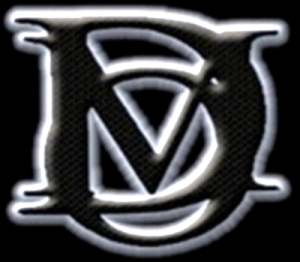 Summon: How did the band get started?
Dom: The band got started in 2004 when I decided to stop relying on others to make my career happen. I was fed up and frustrated with bands, so I decided to become one and build a band from the ground up. No matter who joins or leaves D.O.M I'm here so there will always be a band.
Summon: What kind of music do you play?
Dom: Hardcore, Metal, Metalcore, Black Metal.
Summon: How has the fan response been?
Dom: Fan base continues to grow, the response has been one of respect for what I do. There is only one kind of D.O.M fan. Those who absolutely love it and become die hard fans.
Summon: Where did the band name come from?
Dom: The band name comes from an acronym of my name Dom. D.O.M Destruction Of Mankind came to light in 2004 when a guy named Eric who delivered my mothers oxygen to her house each week. I was there and he asked did I have a band name yet. I said I wanted to use my name as an acronym but didn't have any ideas. He replied without missing a beat "that's easy. D.O.M Destruction Of Mankind" and that was that.
Summon: Introduce the band members and what they do in the band.
Dom: D.O.M Destruction Of Mankind is me Dom I played, wrote and recorded recorded all songs on the album. It was mixed and mastered by Jason Zarnowski from my label Turkey Vulture Records.
Summon: Who writes the music? Lyrics?
Dom: I do all of it.
Summon: And where do the lyric ideas come from?
Dom: The lyric ideas come from society, government, religion, corruption, self improvement and humanity. It is a reflection of that.
Summon: What is your view in Satanism and Occultism?
Dom: My view is that ALL religion like all government is a plague on humanity. The only purpose for it is to manipulate and control people.
Summon: How many albums/CD's have you released?
Dom: I have an EP that I self released "Necktie for a Noose" and an album "Reckoning" that was released by Turkey Vulture Records.
Summon: Tell me about some the songs on the latest CD?
Dom: "Genocide" is a song about war and the evilness of it. "Justify" is a song about corruption in Law and Government. "Hardcore" is a song about the life style we live. "Preeminent" is a song about rising above all others success and excelling.
Summon: Do you have any side projects?
Dom: No side projects, this is the only one my heart and soul.
Summon: Who are some of your musical influences?
Dom: Twisted Sister, Metallica, Pantera, Sick Of It All, Vision Of Disorder, NJ Bloodline, Lamb Of God, Hatebreed.
Summon: Which current bands?
Dom: To be honest all my influences are bands that range from Metal and Hardcore, most started way back and some broke up only to return again, so currently bands like Fury Of Five, NJ Bloodline, Vision Of Disorder, E Town Concrete and yes even Twisted Sister have made a resurgence that has and once again influences me. If I had to pick one current band that has made a significant comeback recently it would hands down be Fury Of Five.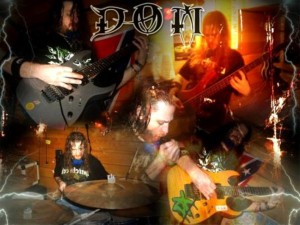 Summon: What is the band like when you play live?
Dom: Yet to be determined. but I'm pretty much similar to a psychotic wrestler that's a bit crazed lol. Or the joker from dark knight. I tend to lose it a bit when I play, record or perform.
Summon: Have you guys ever played in another country?
Dom: No not yet.
Summon: How big of crowd shows up at shows usually?
Dom: Yet to be determined but the social media fan base has continued to grow. Looking forward to play shows and connecting with fans in person.
Summon: How is the crowd response when you play?
Dom: The response from fans is that they fucking love what I do and can not wait to see it live.
Summon: What do you think of the US Black Metal/Death Metal scene?
Dom: I think that the metal scene as a whole is here to stay no matter how it rises or falls through the years it remains constant whether it's underground or more popular. It is and always will be. In the US, Metal as an entire genre has seen better days, all thanks to trendy weak ass fucking pathetic music that is forced upon people. Metal is something you choose and live, not mindless dribble that's forced on you!!!
Summon: What do you think of the Overseas scenes?
Dom: Overseas is where it's at those are where the true metal-heads are at. Those fuckers go nuts for it.
Summon: What are some of new favorite black metal/death metal bands?
Dom: I'm not going to front i really don't have any.
Summon: When do you guys plan on writing any new material?
Dom: I already have two songs set to go that process always continues, it's not something you walk away from and come back to it's something you do as you go.
Summon: What does the future hold for the band??
Dom: Simple! Get the band together behind me (which I am currently working on) play shows, tour, record and release the next album and keep fucking going!!!!!!!
Contact them at:
http://www.destructionofmankind.com/
https://www.facebook.com/DestructionofmankindDOM
https://myspace.com/d.o.mdestructionofmankind
http://www.reverbnation.com/domdestructionofmankind
https://www.youtube.com/user/NYHCDOM2
http://www.jango.com/music/D+O+M+Destruction+Of+Mankind?l=0
https://itunes.apple.com/us/album/reckoning/id885261443
http://www.amazon.com/Reckoning-Explicit-D-O-M-Destruction-Mankind/dp/B00KQP8BSW/ref=sr_1_1?ie=UTF8&qid=1403044194&sr=8-1&keywords=D.O.M+Reckoning
http://www.turkeyvulturerecords.com/blog/tvrstore#!/~/product/category=3600307&id=34876001
http://www.cafepress.com/domgear