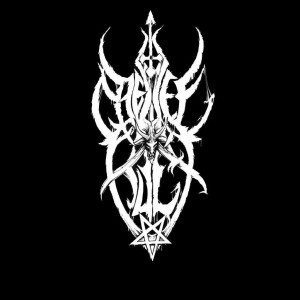 Summon: How did the band get started?
Xarim: The cult spawned in the summer of 2009 by Xarim after he had left the black/viking metal band Kvaelt for pursue his own goal, that was to create pure black metal.
Summon: What kind of music do you play?
Xarim: Norwegian Black Metal.
Summon: How has the fan response been?
Xarim: Mostly positive. Many people have come up to us after concerts and given quite positive feedback on our music.
Summon: Where did the band name come from?
Xarim: Its a name Xarim came up with, that means "The Devils Cult". Band was original named "Skadefryd", but after a year Xarim reformed the band under the name Djevelkult, that better suited the bands music and vision.
Summon: Introduce the band members and what they do in the band.
Xarim: Xarim on vocal and lead guitar, Skabb on the bass and backing vocal, Ond on the drums and Beleth on the rhythm guitar.
Summon: Who writes the music? Lyrics?
Xarim: The music is composed by Xarim, also the lyrics. But we work together as a band, so all the members participate on their instruments in the composing.
Summon: And where do the lyric ideas come from?
Xarim: They are based on Xarims visions and his view for the world. Some lyrics is just pure blasphemy and hatred towards life, others are more told as a tale of grim visions of darkness and despair.
Summon: What is your view in Satanism and Occultism?
Xarim: The band is based on a satanic view, we follow no weak lies of any manmade gods. We follow the path of strength within us. All men is enslaved in weakness bond to the fleshy void, so it is up to each of us to stand strong for ourself and see the real truth of this world, that is utter and complete death. 
Summon: How many albums/CD's have you released?
Xarim: We have released one demo, and are working in studio on our coming full-length album in these days.
Summon: Tell me about some the songs on the latest CD?
Xarim: On the demo "Skapt av Helvetesild" the songs were "Helveteskapt", "Dødsriket" and "The Final Hellspawn". On the coming album "I Djevelens Tegn" there will be 8 songs that yet is to be announced.
Summon: Do you have any side projects?
Xarim: Skabb has his one mann band, Likvann. Xarim plays in Crest of Darkness and session for Svarthaueg.
Summon: Who are some of your musical influences?
Xarim: Both old and new bands; Tsjuder, Trelldom, Sargeist, Throne of Katarsis, Taake, Urgehal, Ragnarok, Celtic Frost, Deathspell Omega, Marduk Sarkom, Ondskapt, Arckanum, Avsky, Beastcraft, Koldbrann and so many other bands.
Summon: Which current bands?
Xarim: Kirkebrann, Svikt, Enthral, Dauden, Steel Wizard, Nordvrede, Skaur, Kaevum, Iskald, Skygge, Svadilfare.
Summon: What is the band like when you play live?
Xarim: Very energetic.
Summon: Have you guys ever played in another country?
Xarim: No, not yet.
Summon: How big of crowd shows up at shows usually?
Xarim: So far it have been mostly good attendance. 
Summon: How is the crowd response when you play?
Xarim: With pure rage!
Summon: What do you think of the US Black Metal/Death Metal scene?
Xarim: Many good bands within the US like Judas Iscariot, Inquisition, Wolves in the Throne Room, Black Witchery, Kult ov Azaze and many others. 
Summon: What do you think of the Overseas scenes?
Xarim: Well, there is some good Canadian bands, like Blasphemy, Slaughter, Sombres Forets and some others from south america.
Summon: What are some of new favorite black metal/death metal bands?
Xarim: Portal, Blut aus Nord and a couple of other bands.
Summon: When do you guys plan on writing any new material?
Xarim: We're are soon done with our full length, but already we have working on new songs.
Summon: What does the future hold for the band??
Xarim: A full length album first and foremost, then we will start to play live again and work on several new songs. We will keep the black flame burning to Death take our lives!
Contact them at:
https://www.facebook.com/Djevelkult
http://www.reverbnation.com/djevelkult
http://www.myspace.com/djevelkult