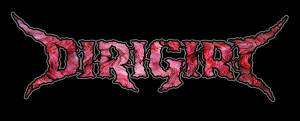 Dirigiri
"Dirigiri"
2013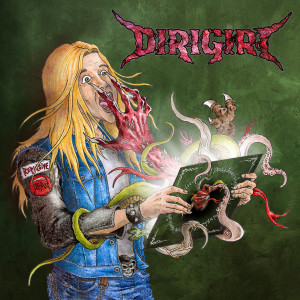 Dirigiri are a two man monstrous sounding Death/thrash metal project out of San Antonio, TX. The bands name come's from the name dirge in Latin , which is a hymn of death. And their debut EP, which is self-titled ,is aptly named considering it contains five blistering death metal tracks that are sure to appeal to fans of Obituary and Morbid Angel. The songs are shorter than your average track lengths and very well produced. The drum and guitar work on this release is both tight and out of control sounding at the same time, while backing low classic death metal sounding vocals.
1.Death By The Hands Of An Angel/ This one is a two minute long hammering tune that will get your fist pumping immediately and is inspired lyrically by some of the same themes as Creeping Death by Metallica.
2.Bone Collector/This two and a half minute assault on the ear drums must be played at full volume and shares it's name with a favorite book of mine by Jeffery Deaver (movie wasn't nearly as good as book, just sayin')
3.Riot/ This sadistic tune is a stand out track with that's well put together and features the talent of the guitarist and adds a little hardcore styled vocals to boot. Will induce devil horns.
4.Boiled In Blood/ This song is a bit longer than the others clocking in at four minutes and has a very thrash inspired feel to it and will appeal to fans of earlier Sepultura aka Arise. Very cool tune for sure.
5.Toilet Extermination/ The band may have saved the best for last as this song literally explodes out of your speakers in a punk fueled fury that makes you want to get up and mosh or at least break something. This track got my blood pumping faster than a can of Red Bull could ever dream of and shows off a very Exploited style influence and makes me give it four horns up!
So check out DIRIGIRI and their self titled release as soon as you can and if you like death metal then you are sure to like these guys just as much I do, so till next time……..\,,/
Tracklist:
1. Death by the Hands of an Angel
2. Bone Collector
3. Boiled in Blood
4. Riot
5. Straight from the Grave
6. Toilet Extermination
https://www.facebook.com/dirigiri
Members:
Mike – Bass
Omar – Drums
Gene – Guitars
Derek – Vocals
Rating: 9 out of 10
~Soul Torn Down