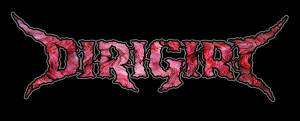 Dirigiri:Now has finished their first debut album release in 2013.
Dirigiri will embark on a texas tour to promote this newly self-tittled release in 2013 hitting all major texas city's major promotional activity's will be occurring to support the CD and digital release threw live show's and major radio rotation air play.
Dirigiri is Omar Guerra/Drummer, Gene Olivarri/Guitarist,Derek Dishner Vocals/Bassist the forming of this Band was through an ad in the musician section of a metal music publication in San Antonio named the Edge magazine between Drummer/Omar Guerra and Guitarist/Gene Olivarri.
Past experience, accomplishments, and, recognition Dirigiri has defined as being major road dogs in the Texas Metal Market with major road experience and also in Mexico in undeground music festival circuit's.Openning for such major metal acts as Exodus, Overkill, Rigor Mortis, Lethal Aggerssion, Candlemass, Onslaught.
Dirigiri has received a golden audie at SXSW for thier song Boiled In Blood and has been nominated for Best Speed Metal/Thrash band in texas at the Maxima Distorzion music awards.
Dirigiri has demonstrated how thier music is part of a larger career development plan by doing their own funded tour's and goal to bringing great quality metal music to the masses also by giving high energy peformance's and captivating song structure's live. Leaving Metalheads hungry and wanting more of this Band at every live performance.
Look out! for Dirigiri in 2013 for their 1st major release and keep your radio dials ear's and eye's tuned in to your local metal radio stations and independent metal record stores and college radio for these Death/Thrashers!!!!!!!!!!