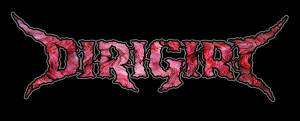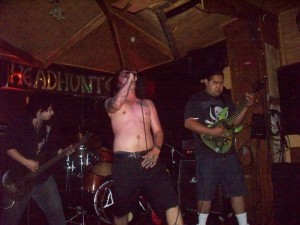 Summon: How did the band get started?
Gene: The band got started through an ad in a local metal music publication here in San Antonio, Texas.
Summon: What kind of music do you play?
Gene: We play Death/Thrash metal.
Summon: How has the fan response been?
Gene: It has been truly amazing the response we have been getting from fan's in America in Texas and across Sea's.
Summon: Where did the band name come from?
Gene: It come's from the name dirge in Latin it is called a Dirigiri, which is a hymn of death.
Summon: Introduce the band members and what they do in the band.
Gene: Hello everyone out there! Gene Olivarri (Rhythm/Lead) Guitarist
Omar Guerra (Drums)
Derek Dishner (Vocals/Bass)
Summon: Who writes the music? Lyrics?
Gene: Gene Olivarri and Omar Guerra write the music and Omar Guerra and Derek Dishner work on the lyrics.
Summon: And where do the lyric ideas come from?
Gene: It come's from real life things that happen around us and to us everyday that's what we write about tragedy's mainly.
Summon: What is your view in Satanism and Occultism?
Gene: We respect everyone in whatever they believe in and we as people should support anyone in their belief's.
Summon: How many albums/CD's have you released?
Gene: This is our first CD.
Summon: Tell me about some the songs on the latest CD?
Gene: The songs are very catchy tune's that stay in your head and just make's you hit the repeat button over and over again.
Summon: Do you have any side projects?
Gene: No.
Summon: Who are some of your musical influences?
Gene: We are really influenced from all over the map from jazz blue's to rock and punk all the style's of metal if we stayed here on this question it would take up the whole interview.
Summon: Which current bands?
Gene: I've been hearing the new Autopsy album a lot.
Omar: Autopsy, Repulsion, Ghost and Nile.
Derek: Pestilence, Autopsy.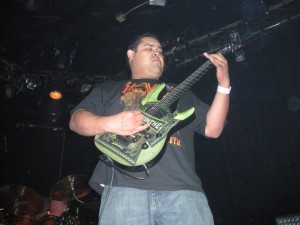 Summon: What is the band like when you play live?
Gene: Raw and brutal in a live setting very clear and heavy the music is done honest and truthfully.
Summon: Have you guys ever played in another country?
Gene: Yes we have toured in Mexcio a few time's.
Summon: How big of crowd shows up at shows usually?
Gene: It's different at every show we do depending who were touring with.
Summon: How is the crowd response when you play?
Gene: There's just pure headbanging fist banging and flying pure destruction at show's.
Summon: What do you think of the US Black Metal/Death Metal scene?
Gene: Their are so many great band's i couldn't even start from the old school to the bands out today are being so creative with these style's it's just amazing.
Summon: What do you think of the Overseas scenes?
Gene: They are spectacular they are true maniac's out there we love how things still are underground and they all stayed traditional.
Summon: What are some of new favorite black metal/death metal bands?
Gene: The band Hat.
Omar: The band: Kolbrann.
Summon: When do you guys plan on writing any new material?
Gene: The 2nd album is finished already we just have to go in there and do the do and record it.
Summon: What does the future hold for the band??
Gene: Lot's of hard work and touring becoming major road dogs in the metal market.
Contact them at:
https://www.facebook.com/pages/DiRiGiRi/161330347223499
http://www.myspace.com/dirigiri#ixzz10nbVA8oF
http://www.reverbnation.com/dirigiri