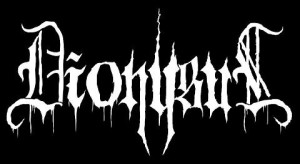 Summon: How did the band get started?
Sheraz Ahmed: Dionysus started in summer of 2010.  Me and my younger brother Umair wanted to form a metal band. There has been a lot of line-up changes since then.  We recruited Waleed Ahmed in winter 2011 and its been me Umar and Waleed since then.  
Summon: What kind of music do you play?
Sheraz Ahmed: Our music is a mixture of a lot of things.  Basically Doom with black, death elements. We listen to a lot of things, so we basically try to come up with something different every time. Our song Valor of the phoenix also has a post rock-ish part with flute solo. Glimpse of the beloved is neo/dark folk influenced acoustic instrumental. Burial ground is simple death/doom. Like I said, its basically a mixture of black/death/doom along with other things.
Summon: How has the fan response been?
Sheraz Ahmed: Fan response has been great since we started. Its funny how so many people can relate to our music, although its something very different and not usual metal. We've seen a great support from abroad besides our homeland, which includes fans from India, Bangladesh, Nepal, America, Sweden, Germany, Indonesia, Portugal etc. We just released our first EP A hymn to the dying through a Sweden based label Salute records, and people have been ordering from countries I can't even pronounce. lol.
Summon: Where did the band name come from?
Sheraz Ahmed: I don't know. I seriously don't know why we chose this name, I guess one of our friends told us about it when we were forming the band. It has no relation to music but it got us a lot of listeners from Greece. 😉
Summon: Introduce the band members and what they do in the band.
Sheraz Ahmed: I (Sheraz Ahmed) play guitars/drums. Waleed plays bass/guitars/ drums (on some songs), Umair plays  Guitar.  All of our songs are recorded by Waleed Ahmed.
Summon: Who writes the music? Lyrics?
Sheraz Ahmed: All 3 of us contribute in song writing, its not possible with out any of us. 😉 Lyrics are mostly written by people outside the band.
Summon: And where do the lyric ideas come from?
Sheraz Ahmed: I wrote the lyrics of Burial Ground its about the death of a man and the whole process. Valor of the phoenix and Bathing in unholy blood were written by a friend Agha Majid. He'll be writing more lyrics for us in the future cause what a great writing talent he is! Last song on our EP was written Major (R) Sultan Akhbar Khan, its called Angels of heaving light. Our lyrics themes are mostly death, despair, life, fantasy.
Summon: What is your view in Satanism and Occultism?
Sheraz Ahmed: I think Satanism is stupid. Occultism? What the fuck is that?
Summon: How many albums/CD's have you released?
Sheraz Ahmed: We've released a 5 song EP called Hymn to the dying by Salute records on CD, people can order it at : saluterecords@gmail.com
Summon: Tell me about some the songs on the latest CD?
Sheraz Ahmed: I just finished writing a slow Doom song for our new album, now Waleed is gonna put some acoustic parts in it. I think we're gonna focus more on melancholic doom/ neofolk this time instead of melodic black style which we practiced in few of our last songs, but lets see. We basically write whatever we feel like. So we ourselves can't tell how the whole CD is gonna sound like. haha
Summon: Do you have any side projects?
Sheraz Ahmed: Yes, since I cannot stick to one style of music. I am also working on the EP of my thrash band Foreskin (https://www.facebook.com/foreskinband). Besides that I also have 2 man Old school death metal band Marwolaeth, we've released 2 song demo and working on new material. Waleed Ahmed from Dionysus also does vocals in it. (https://www.facebook.com/marwolaeth). These are the bands which are active at the moment. I used to have a atmospheric black metal band with my friend Rauhan, he also played flute/synth in Dionysus. But its on hold right now. (https://www.facebook.com/ilhaambm). I also played in grindcore/death grind band Multinational corporations, it has one EP under its belt. (https://www.facebook.com/multinationalcorporationspakistan)
Summon: Who are some of your musical influences?
Sheraz Ahmed: There are many. To name few: Dan Swano, Jon Nödtveidt, Jonas Renkse, Lord Blackheim, Yngwie Malmsteen, Jason Becker, Marty Friedman, Andrew Latimer, Steve Morse, Glen Tipton.
Summon: Which current bands?
Sheraz Ahmed: I am not much into new bands, but I've been really getting into Cosmic Despair, Morbus Chron and Bastard Priest.
Summon: What is the band like when you play live?
Sheraz Ahmed: We've had a great time whenever we played live. Sam Morbid plays drums live for us. And he is the best drummer I've ever played with. He is good at one thing and its called "nailing it". We can write anything knowing he is gonna fucking nail it! We played last time in January. We haven't been playing live much since Waleed has moved to Karachi, but he is gonna be back in December and we shall play live soon! Here is the video from our last show: http://www.youtube.com/watch?v=5CQwdVcre8A
Summon: Have you guys ever played in another country?
Sheraz Ahmed: No, not yet. We've been getting a lot of offers, but we can't travel abroad at the moment cause of our studies. But lets see, we might do in future. 
Summon: How big of crowd shows up at shows usually?
Sheraz Ahmed: There are not much live shows here, so crowd is actually around 200 to 300 people. But it works!
Summon: How is the crowd response when you play?
Sheraz Ahmed: Crowd has been great for Dionysus since the start. You can check out our video from the last show to see. (Valor of the phoenix live: http://www.youtube.com/watch?v=5CQwdVcre8A) (Eaten bloodbath cover: http://www.youtube.com/watch?v=FvzxsbM62Bo&feature=relmfu)
Summon: What do you think of the US Black Metal/Death Metal scene?
Sheraz Ahmed: I think its pretty great! I love a lot of American death metal bands. I always prefer Sweden/ Norway when it comes to Black metal. 😉
Summon: What do you think of the Overseas scenes?
Sheraz Ahmed: I've a lot of friends in India and I think metal scene is pretty good there, also in Nepal. Indonesia has a very good Brutal death metal scene. Its better than Pakistan in most of the places haha. 
Summon: What are some of new favorite black metal/death metal bands?
Sheraz Ahmed: Black metal: Svarti Loghin, Agalloch, Death spell omega, Negura bunget.  Death Metal: Morbus Chron, Desecresy, Demiurg.
Summon: When do you guys plan on writing any new material?
Sheraz Ahmed: We're in process of writing our new album these days! And its coming out great!
Summon: What does the future hold for the band??
Sheraz Ahmed: Can be anything. hahaha. An Album release for sure! Thanks for the interview. Regards. 
Contact them at:
Band page: https://www.facebook.com/Dionysusband
bandcamp link: http://dionysuspk.bandcamp.com/
Youtube channel: http://www.youtube.com/user/dionysuspk?feature=watch
Mention that people who wanna buy our music can order from Salute records at saluterecords@gmail.com or go to their facebook page: https://www.facebook.com/SaluteRecords