Diabolic
"City Of The Dead" (Re-Release)
2014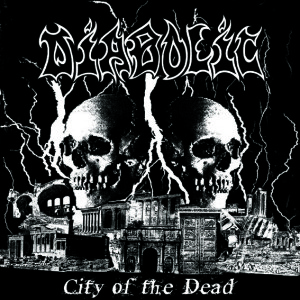 Through the mayhem of sound and production, that seems as if they used a real well for reverb, comes Diabolic's expanded edition of City Of the Dead. There is a storm of vocals that is reminiscent of early Chris Barnes, and plays out much more like an attack. Overall  the CD is abrasive at best tonally. Were this Black Metal there would certainly be a victory.
While my reviews usually tend to lead toward a positive, I will say that as I listened to Diabolic, there was a moment when I did get really excited. The final section of Gemini was amazing. Like the musical wait all came together right there. The other light  at the end of the tunnel for me was the guitar work. There is some quality shredding throughout and some fretting speed to be admired.
While this particular CD may not have been my cup of tea, take a listen and prove me wrong.
Tracklist:
1. Denounce God
2. City Of The Dead
3. Vortex
4. Encarta
5. Inborn
6. Visions From the Darkside (Morbid Angel cover)
7. Gemini (Slayer cover)
8. Lucifer Induced (Unreleased song November 2013)
https://www.facebook.com/diabolic.metal
Members:
John Hall III – Bass/Vocals
Aantar Lee Coates – Drums
Jeff Parrish – Guitars

Rating: 6 out of 10
~Alaric Barca
alaricbarca.com