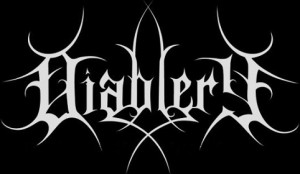 "Diablery" is a kind of philosophy – a herald of the Aeon in its luciferian form.  For us, "Lucifer", is also acknowledged as Man's Inner Flame or Will.  We believe that 'Will' is the first pillar of Attaining Wisdom, Knowledge and ultimately the Godhead.
2008 : The band was created by Nimerius and was located in Chalkida, Greece.  The need for development forced Nimerius to move the base of the band in Athens as he found new members there.
2009: A year full of rehearsals, song composing and member changes (which also resulted in keeping back the band for a while).
2010: The band started live performances all over Greece and released their first half-length album "The Catharsis".
2011: The band booked several shows and 'Vanity of Darkness' was included in the compilation "The Black Syndicate Vol.3".
Release of "The Eye" EP (consisting of 4 reproduced songs from "The Catharsis"),
2012: The current period Diablery are working on their debut (full-length) album.  
Diablery logo by Christophe Spazjdel.
Diablery symbol designed by Setesh & Nimerius.
Contact: diablerygr@gmail.com