Devation
"Scorn through an Absent Sceme"
2015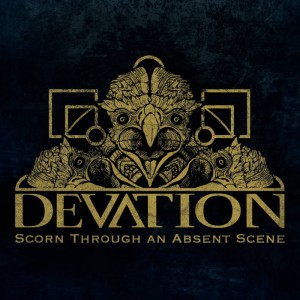 Oh good, a death metal band with progressive tendencies I can actually listen to. The album wastes no time to slap you in the face with its heavy riffing. I immediately noticed a great enveloping of the guitar riffs along with the vocal, with punchy drums which make you want to head-bang to this. The album exhibits skill and tightness, without being a shredding maniac or even sounding robotic.
The album sounds great, really great. The guitars are heavy but do not drown the mix. In fact nothing does. The kick feels a bit loud, but it's not annoying. And the vocals are well recorded and picked out to sound forward without sacrificing the rest of the soundscape. And that snare just sounds damn good doesn't it?
The album cover, hmm, three bird heads? I honestly don't know if it actually means something to the band. But fuck it, it looks elaborate and mysterious, and I like it as well.
Will I listen to it again? My library is steadily growing, having less time to back to bands I've already listened. But I won't mind another round of this album. As the band's debut album, I think they not only show potential but actually exhibit greatness, the album is masterfully recorded, showing great dedication, not just sound wise. These are truly the kind of albums I like to review, not only because they are good musically and sound wise but also because they exhibit that there is still life breathed in metal.
Tracklist:
1. The Oppressed
2. Burn It Down
3. Scorn Through An Absent Scene
4. Void
5. Artifacts
6. Cancer
7. Frantic
8. Closing Degre
9. Deadweight
10. The Fixation
https://www.facebook.com/devationswe
Members:
Fredrik Dirfors – Bass
Oskar Nilsson – Drums
Richard Wiberg – Guitars
Joakim Karlberg – Guitars
Timmy Bartelius – Vocals
Rating: 8.5 out of 10
~Carnivean