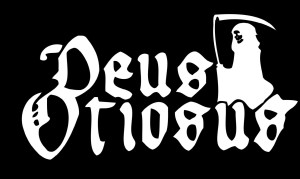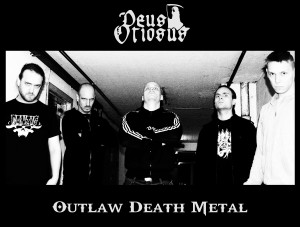 Summon: How did the band get started?
Jesper: The band was formed in 2005 by Henrik and Anders. It began as a side project but is now the main musical focus of all members.
Summon: What kind of music do you play?
Jesper: We play old school death metal. We do not focus on conforming to dogmatic rules and strict genres, but on writing good music.
Summon: How has the fan response been?
Jesper: We have been excited to see a growing interest for our work in both national and international communities and each of the two previous album releases have increased our fan base substantially. We get almost exclusively positive responses to our work, both from reviewers and fans and we look forward to get reactions to our upcoming album once it is released this summer. I think there is a general lack of the kind of metal we deliver, and that shows in the fan response.
Summon: Where did the band name come from?
Jesper: Deus Otiosus is Latin and means "Idle God". It is used to describe a creator god who has left his creation to evolve on its own, without guidance. This makes for a dark, sinister world. It is the essence of this that we attempt to capture and express in our lyrics and music.
Summon: Introduce the band members and what they do in the band.
Jesper: Henrik Engkjær and Peter Engkjær both play rhythm and lead guitars. Henrik writes the riffs, main drum parts and most of the lyrics as well. Jesper Olsen is behind the drums and creates many of the drum parts himself. Anders Bo Rasmussen is our vocalist. He also is the main designer behind our album artwork. I play bass guitars and for the upcoming album "Rise", I have participated in writing lyrics. We work together in rehearsals to arrange the songs that Henrik has provided the framework for.
Summon: Who writes the music? Lyrics?
Jesper: Henrik writes all the music and most of the lyrics. All songs are then arranged in the rehearsal room where every member has a say.
Summon: And where do the lyric ideas come from?
Jesper: We draw on many different themes and concepts. As the band name implies, we describe a world devoid of guidance and purpose. To delve into this, we draw inspiration from things like history, philosophy and mythology. Our main goal is to paint a picture of the world that is forsaken, absurd, morose and miserable.
Summon: What is your view in Satanism and Occultism?
Jesper: None of us are Satanists or in any way professed to any religious group. However, we can certainly use such concepts as inspiration, which I think is apparent in our lyrics, but it is used merely as a creative spur.
Summon: How many albums/CD's have you released?
Jesper: We have previously released two full-length albums called "Murderer" and "Godless" and our third full-length "Rise" is due for release this summer.
Summon: Tell me about some the songs on the latest CD?
Jesper: People will discover that "Rise" is a very diverse album covering many lyrical themes and drawing on a multitude of musical styles. It contains songs like "Iron Rule", which is a fast-paced rampant death/thrash track that we have released for free streaming recently. Others, like "Don't fuck with the Dead" or "Stand up and Fight", provide for a primitive, in-your-face type of death metal. Finally, I can mention the outro track "Fall of the West", which is a sinister and musically experimental track that is inspired partly by classical music. All in all a diverse and unique album that will prove to be a major step up from our previous work.
Summon: Do you have any side projects?
Jesper: Jesper Olsen is also the drummer in the Danish heavy metal band "Black Succubi". Other than that, we direct all of our attention to Deus Otiosus.
Summon: Who are some of your musical influences?
Jesper: We are of course inspired by some of the classic acts like Morbid Angel, Death, Entombed, Deicide and so on. However, we are not limited to one particular genre and as mentioned, also gain influence from things like classical music, for example.
Summon: Which current bands?
Jesper: Speaking for myself, I currently listen a lot to bands like Grand Magus, Watain and Carcass, which have produced great albums in recent years.
Summon: What is the band like when you play live?
Jesper: We strive to always top our last performance and we deliver a highly energetic and intense show, regardless of the size of the venue and the crowd. On top of this, vigorous rehearsing means that we always play tight and sound as close to the album as possible while still allowing for live creativity and improve.
Summon: Have you guys ever played in another country?
Jesper: We have played a handful of concerts in Sweden and Germany last year and we hope to expand our territory even further with the new album. Of course we also hope to return to both Sweden and Germany, where we have had great crowd response.
Summon: How big of crowd shows up at shows usually?
Jesper: We have played for any number of people between a dozen dedicated spectators to well more than a thousand at last years Copenhell Metal Festival in Copenhagen.
Summon: How is the crowd response when you play?
Jesper: We have always been well received, even abroad where no one knew us beforehand. I especially remember several times where the crowd was singing along to one of our unreleased songs ("Don't fuck with the Dead") although never having heard it before. That tells me that we have the capacity to write memorable, catchy songs with a strong appeal to our listeners. And it tells me that our upcoming album "Rise" will be a success.
Summon: What do you think of the US Black Metal/Death Metal scene?
Jesper: I do not listen much to the new stuff that comes out. The last US release really worth noting is Illud Divinum Insanus. It stands out in a good way.
Summon: What do you think of the Overseas scenes?
Jesper: If you refer to the European scene then there is definitely a lot going on, yet little of interest. European bands like Watain and Behemoth have produced good stuff recently as well as previously. It just tends to be swamped by the scores of bands that do not measure up.
Summon: What are some of new favorite black metal/death metal bands?
Jesper: I listen mostly to older stuff from back when creativity was paramount. I don't keep track of new bands and don't remember hearing a new or upcoming band producing memorable stuff, recently.
Summon: When do you guys plan on writing any new material?
Jesper: We have been hard at work recording "Rise" and putting the finishing touches to the album artwork, and we are touring Denmark before long, so there is a lot going on besides writing new material. But surely, we will start rehearsing new material very soon.
Summon: What does the future hold for the band??
Jesper: In my view, Deus Otiosus is headed only one way – upwards. We are establishing a bigger and stronger fan base and implementing our name not just in Denmark but internationally. With the new album coming soon, I see no reason not to expect great things in the future.
Contact them at:
https://www.facebook.com/deusotiosus.dk
https://myspace.com/deusotiosus
https://twitter.com/Deus666Otiosus
http://www.youtube.com/user/deus666otiosus/videos