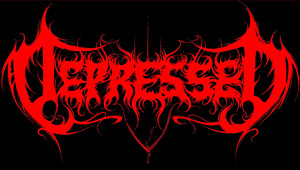 The band was formed in 1998 by Giovani Venttura, Rodrigo Jardim, Herbert Adriano and Carlos Anthon. Heavily influenced by the 90s death metal (highlights for Morbid Angel, Deicide, Hypocrisy, Brutality, Monstrosity and Sinister), they wrote a few songs and released, in 1999, the 'Diabolical Servants of the Cross' demo. After a few shows, Herbert and Carlos leave the band, and Depressed enters its hiatus in 2000.
January 2012, Giovani brings back Depressed to its activities with new drummer Rene Simionato and bassist Renan Carrenho. Rodrigo Jardim didn't want to get back with them, so Depressed recruited Dustin Radicliffe to guitars. In this new phase, Depressed went through a lot of line-up changes, and got stable with Rodrigo Jardim back to the guitars, Rodrigo Amorim also on guitars, Stella Ribeiro on bass, and Gabriel Guerra on drums. This line-up recorded Depressed's debut album: 'Afterlife In Darkness'. One by one these members were leaving the band, and Giovani Venttura was almost alone once again. Andry Hernandez (drums) and Murillo Hortolan (guitar) were recruited in April 2014, and in 2015, Augusto Alves (guitar) and Guilhermo Landes (bass) were also recruited.
The new line-up in stable once again, and stronger than ever. Depressed is on writing process for their second album already.