Defying
" The Splinter of Light We Misread"
Defying is a polish progressive metal band with much to offer you. This ain't your grandma's prog, these guys are a refreshing look into what's new on the scene.

With rhythms that stem from black metal as well as doom, Defying puts together a nice blend of metal that you can drive to, or just hang with and take in. This is not music to party and get wasted to, this album involves your full attention. "The Splinter of Light We Misread" is a very short but much worthwhile LP from these guys give you a really eye opening taste on what post-metal has become and hones you into an idea of what lies ahead.

'The Sunlight Recedes' is an amazing first track that takes you through many parallels. From somber beginnings to haunting chamber vocals and tones, this song grooves while still keeping your head in the game. Droning melodic guitars help you sway in rhythmic timing while the bass from Paweł Siemaszko and drums from Tomasz Semeniuk keep you above ground, for long enough before receding into a deep dark hole. While being whispered to, you'll fall into an almost meditative state. Chants and words of warning echo through the dark corridors of your mind, right up until heavy crunching riffs suck us out of the vortex of despair and back into harsh reality. We swell and sway with the double-bass pedaling and sweet main hook of the track before subsiding into soul crushing instrumental 'Til Shadow is White', which opens with a very cool and eerie sax serenade by Rafał Wawszkiewicz. His avant-garde approach feels like it's coming from down the hall of an abandoned insane asylum.

'Irreversible' is the leading track of this album with violins and trumpets that wield an absolutely beautiful opening, one that truly has heart and gives you an idea how seriously this band conducts themselves. This entire song is really extraordinary. Lead vocals felt from Piotr Stępiński forebode and tear your heart from the inside. Time changes are a big piece of this puzzle and none of it is carried sloppily or done without conviction. This track really gives you a taste of all the genres this band pulls from while making no apologies. Defying keeps you involved without being forceful or shoving anything down your throat. You're poised to keep listening because it all works so well together.

Final track 'New Dawn Fades' is nothing short of mesmerizing, from start to finish. This has to be one of the best Joy Division covers out there. Soft creeping vocals that graze alongside your emotions, wanting so badly to learn more about you as you stumble blindly through the track grasping for connection. Once it hits you're there and you won't realize how involved you are until the moment is gone and the track is over.

"The Splinter of Light We Misread" is impressive, complex, sharp, and passionate. Get it.
Tracklist:
1. The Sunlight Recedes
2. Till Shadow is White
3. Irreversible
4. New Dawn Fades
https://www.facebook.com/defyingpoland
Members:
Piotr Stepinski – Vocals/Guitars
Rafal Waniello – Guitars
Pawel Siemaszko – Bass
Tomasz Semeniuk – Drums/Sampling
Rating: 10 out of 10
~LL
Defying
"Nexus Artificial"
2014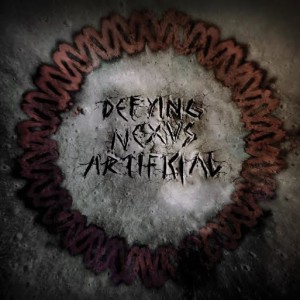 This totally took me by surprise when I cranked the speakers in anticipation wondering what exactly I was going to be in store for, and you know what? I'm glad I cranked it because what came to follow is most likely going to make my top Ten list of albums for 2014. Yep I said it right there, because what we have here is a labor of love and a well crafted piece of musical art. This is a well executed slab of Doom/Death with melody and passion through out from start to finish. It has progressive metal elements to it and somber / melancholy parts which are beautifully played and flow seamlessly.
These Poles deserve much recognition for this fine album which brings to mind the melancholy of old Anathema and a dash of Cathedral but with a more modern twist to it and I could hear some Paradise lost floating around in there too for good measure.
I for one will be looking out for more from these guys and lets hope bigger and better things come their way, this is an album you need to listen to and definitely add to your collection. A modern day Masterpiece. \m/
Tracklist:
1. Demiourgós
2. Newborn Sun
3. Portraits
4. Prayers
5. Mismatch
6. Imitation
7. Ningma
8. Anaesthesia
9. Suppression
10. Ab Originis
http://defying.bandcamp.com/album/nexus-artificial
https://pl-pl.facebook.com/defyingolsztyn
Members:
Piotr Stępiński – Vocals/Guitars
Rafał Warniełło – Guitars
Paweł Siemaszko – Bass
Tomasz Semeniuk – Drums/Sampling
Rating: 10 out of 10
~Death Metal Andy