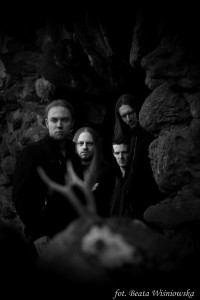 Summon: How did the band get started?
Tomasz: It all has begun in Olsztyn, Poland (hometown of Vader) about 6 years ago, when I met Rafał Warniełło, who – like me – was a big fan of Swedish progress and wanted to play like that. We recruited bassist Paweł Siemaszko and a guitarist Dominik Pliszko, and our first demo, "Phial of Prayers", was recorded in 2009.
Summon: What kind of music do you play?
Tomasz: Our music is often referred as post and progressive metal, with death/doom influences. We are not afraid to experiment and often use some unconventional sounds, among which you can hear a wide range of guitar effects, samples, acoustic guitar and cello bows.
Summon: How has the fan response been?
Tomasz: The feedback from our fans is very positive, as always. After releasing "Nexus Artificial" they saying nothing but positive opinions. They support us, without them we couldn't release our debut album – they helped us to raise funds by the crowfunding site.
Summon: Where did the band name come from?
Tomasz: We always wanted to make our music ambitious and defy the strict musical limitations, generally accepted standards and schemes and do not follow the current trends, but make everything in our own unique way. Defying is a simply definition of our goal.
Summon: Introduce the band members and what they do in the band.
Tomasz: We create a quartet: Piotr Stępiński is a vocalist and guitarist, Paweł Siemaszko is a bassist and he is also responsible for backing vocals, Rafał plays solo guitar and my things are drumming and sampling.
Summon: Who writes the music? Lyrics?
Tomasz: Most of riffs are created by Rafał in home. Then he's bringing his ideas on rehearsals and the rest of the band giving some ideas and perfecting it all together. Sometimes we are improvising. When the music is ready, Piotr writes lyrics.
Summon: And where do the lyric ideas come from?
Tomasz: "Nexus Artificial", our full-length debut, is a concept album. Inspiration was come from the Ridley Scott's movie "Prometheus" and Erich von Daniken stuff. We addressed the issue of the human origins and at the same time asking a question: what if the creative force, identified with the divine one, had indeed its extraterrestrial roots? In ancient texts and legends all around the world there are lot of describing the meeting of the "gods" with the people. Of course, it's our own literary-musical fiction, not the thing which we believe in.
Summon: What is your view in Satanism and Occultism?
Tomasz: As a band we are not interested in such things. We all are more rationalists who have both feet on the ground. Personally, I don't like to stereotype all metal bands by connecting them with Satanism and Occultism. My opinion about that is neutral.
Summon: How many albums/CD's have you released?
Tomasz: "Nexus Artificial" is our first full-length album. Before that, we recorded three demos – "Phial of Prayers" in 2009, "Demo" in 2010 and "Portraits" in 2012.
Summon: Tell me about some the songs on the latest CD?
Tomasz: It's a concept album, so one track leads to another. We are very satisfied with it. Some tracks, like "Newborn Sun", was created a few years ago, but in the meantime we changed a lot and perfected it. Others, such as "Imitation" was created shortly before recording.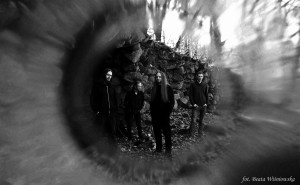 Summon: Do you have any side projects?
Tomasz: For now Defying is only project for all of us, but we played in several bands in the past. For example I played in black metal band Pure Decay and in alternative bands such as Kultywator or Arma Christi. Each of us has a regular job and all our free time we devotes to Defying. But we are creative people with diverse music interest, so maybe in the future – time will tell.
Summon: Who are some of your musical influences? Which current bands?
Tomasz: We are inspired of bands like Opeth, My Dying Bride, King Crimson, Blindead and some kind of doom/death metal from 90's. Each of us has it's own favored genres, from stoner or post rock/metal to extreme black metal, drone doom metal and other sick stuff.
Summon: What is the band like when you play live?
Tomasz: We love to play live. Each of us is fully engaged in our shows and I think that it's visible on the stage.
Summon: Have you guys ever played in another country?
Tomasz: Unfortunately no – going on the tour abroad is quite expensive and not always possible, because each of us has a regular work. But we want to play abroad, and the first country that I would like to play in is Germany, because there is a great reception for that kind of music.
Summon: How big of crowd shows up at shows usually?
Tomasz: Usually not so much, but it all depends on capacity of the venues, or the date and place. Sometimes we played on local open-air concerts and there was a lot of people. In the past we have organized "Prog Rock Nights" in our hometown, Olsztyn and we usually invited other progressive and post rock/metal bands, and the venue was always full. In the future we will repeat it, of course.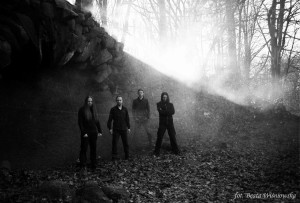 Summon: How is the crowd response when you play?
Tomasz: It's always very positive – applause's, cheers and requests for an encore.
Summon: What do you think of the US Black Metal/Death Metal scene?
Tomasz: Our guitarist Piotr is a big fan of Nile, and we know some death metal legends, like Death, Cannibal Corpse, Morbid Angel or Atheist. Unfortunately, black metal bands from United States are not well known here in Europe. I could mention Azrael, but nothing more. But you have great drone/doom metal bands in the USA, like legendary Earth, Sunn O))) or The Angelic Process.
Summon: What do you think of the Overseas scenes?
Tomasz: If you're asking about European scene – it's very strong. Polish and Scandinavian scene are my favorites – for example Swedish bands like Opeth or Katatonia.
Summon: What are some of your favorite black metal/death metal bands?
Tomasz: I can tell some about Polish metal scene – it's growing strong. There are some brilliant black metal bands such as Morowe, Thaw or Furia, black/death Devilish Impressions and Hate, veterans of death metal from Trauma, not to mention such titans as Behemoth (last album is mind-blowing!) and Vader.
Summon: When do you guys plan on writing any new material?
Tomasz: Now we have a summer break – we don't play concerts till the end of August. In this time we want to focus on new material, but mostly we are promoting "Nexus Artificial" and it's our plan for next year or year and a half.
Summon: What does the future hold for the band?
Tomasz: We hope going on tour and play at some festivals. We're starting to composing a new material for a next album. But for now we want to focus on promoting "Nexus Artificial" and to gain as much listeners as we can – it's a priority for debuting band.
Contact them at:
https://www.facebook.com/defyingolsztyn