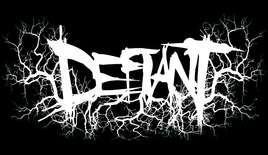 Defiant is a death black metal band from Croatia formed in 2005.
On the last 2 albums they play a melodic death metal, but after some changes in the band they decided to change their style to pure death black metal.
•Defiant's debut album "The End of Beginning" was self-released in autumn 2006.
•In the period between 2006. – 2008. Defiant played around 100 shows and had 3
European tours.
•In 2008. some new promo stuff called "Promo 2008" was recorded for the upcoming album "Without Religion There Is No Fear", but because of some problems band split-up.
•After band's split-up in 2009., while everything was on hold-on, Defiant's founder worked on some new music, more brutal than previous stuff.
•2011. was a new beginning for a band; a new blood was recruited and after few shows with a new line-up, Defiant was ready for recording a new album "Era of Substitution",which was more extreme than previous work of the band.
•2012. Defiant signed for Grom Records.
•In 2015. Defiant recorded their third album "Morbid Spiritual Illness" with the new line up after a two-year break. New album "Morbid Spiritual Illness" is recorded in Studio Armageddon and Defiant signed the contract with label from Switzerland "Miner Recordings". "Morbid Spiritual Illness" gathered a lot of very good feedback from different music portals and fans.
Reviews (Croatian):
http://www.perun.hr/defiant-morbid-spiritual-illness (8/10)
http://muzika.20minuta.hr/clanak/56821/albumi/kanonada-na-slavonskinacin.
aspx (4/5)
http://metaljacketmagazine.com/recenzija-defiant-morbid-spiritual-illness/(5/5)
http://minerhead.blogspot.hr/2015/11/recenzija-defiant-morbid-spiritual.html
(8/10)
http://minerhead.blogspot.hr/2015/11/defiant-morbid-spiritual-illnessauthor.
html?view=mosaic (8,5/10)
Reviews (English):
http://minermetalwerks.blogspot.hr/2015/11/reviewsdefiant-morbid-spiritualillness.
html (9,5/10)
http://festcamper.wix.com/festcamper#!defiant—morbid-spiritual-illness/c1973
Discography:
The End of Beginning [Self- released 2006]
Without Religion There is No Fear [Promo, 2008]
Era of Substitution [Grom Records, 2012]
Morbid Spiritual Illness [Miner Recordings, 2015]
You Tube:
https://www.youtube.com/watch?v=0NkL6u-r8r8
https://www.youtube.com/watch?v=TDObRkpIsN0
https://www.youtube.com/watch?v=TXr2IsuBulo
Facebook:
https://www.facebook.com/defiant.croatia
Bandcamp:
https://defiantcro.bandcamp.com/releases
Members:
Kristijan Krpan/Kris – Guitars (2005 – present)
Ivan Kovačević/Kova – Vocals (2012 – present)
Leonardo Marković/ Leo – Drums (2011 – present)
Mislav Gojo – Bass (2011 – present)
Contact:
rocktouragency@gmail.com