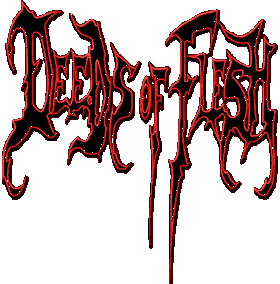 Deeds of Flesh
"Path of the Weakening"
1999, Unique Leader Entertainment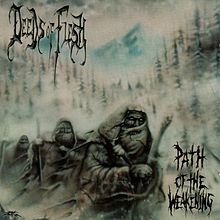 Utter instrumental supremacy hand in hand with carnivorously sinister and intense speed is the only way Deeds of Flesh can be described. "Path of the Weakening" is the latest release from this California quintet. Mesmerizing guitar patterns woven into a rapid-fire percussion attack make this CD an unforgettable and horrifyingly crushing full length by these masters of death. The vocals seep through the massive assault creating a fearless and glorious holocaust of insane turbulence. Unmatched in style by any of its predecessors in the genre, their music is indeed an in-depth excursion into the realm of originality. The cannibal feast commences!
Tracklist:
1. Indigenous to the Appalling (Mutinous Human)
2. Lustmord
3. Path of the Weakening
4. Summarily Killed
5. Sounds of Loud Reigns
6. Execute the Anthropophagi
7. I Die on My Own Terms
8. Sense of the Diabolic
9. A Violent God
https://www.facebook.com/DeedsofFleshOfficial
Members:
Erik Lindmark – Guitars/Vocals
Mike Hamilton – Drums
Craig Peters – Guitars
Ivan Munguia – Bass
Rating: 10 out of 10
~Feceus