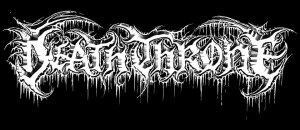 Death Throne
"Into the Vortex"
2015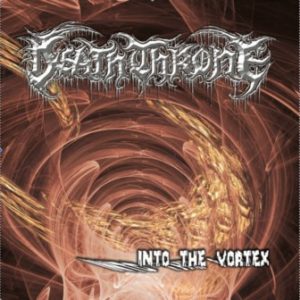 It's seems that Metal is becoming more and less of a 'purist' entity. Not the fans, but the musicians themselves. Take 'Into the Vortex' by Death Throne, and you can see right of the bat that it's not just shredding guitars and blast beat. Okay, they make most of the package, but other elements of synths, organs and other effects are put to good use and in a balanced manner. The band was bold enough to try the unusual and it worked.
Musically it's a competent opus. It is nothing over the top, not the mention that the music lacks a certain rigidity which is becoming all too common in some formula-based bands, but that what makes the release listenable really. Having said that, the vibe quickly dries out; I can't really tell why but there isn't much to entice a listener to go more than once through the whole release.
The issue above might be better addressed when one mentions the sound. I understand that a dynamic range is important to keep a song alive, but you can't go from a muddy sound to a thin sounding guitar and expect no flack. The lows in the guitar needed much more control with some taming on those highs. The drums are not quite 'there' either. In the aforementioned high notes, the bass drum can be heard throbbing but none of the percussion particularly cuts through. It is a pity really because the various sounds used make for a very versatile release and even the song writing itself is respectable. On the other hand, I must add that it had a well leveled bass guitar, it sounded just right, and one could actually hear the plucks onto the instrument. There could have been potential for it to be an incredibly heavy album with all the right factors in place, but it falls short.
The artwork is pretty self explanatory. But did you use Word Art to write in the title? I like the logo though, it's actually readable.
I recommend a listen, if only to learn some do's and don'ts for the aspiring musician; and to prove that one does not a need a million shreds to make a Death Metal album. I would highly recommend the band to hit the studio and re-master it. Give it a breath of fresh air and put it out there again; might become a boon.
Tracklist:
1. Into the Vortex
2. Dust Of Flesh
3. Funeral Dream
4. Soul's Corruption
5. Lost In The Circle
https://www.facebook.com/deaththroneproject
http://deaththrone.bandcamp.com/
Members:
David D – Guitars
Cedric VG – Bass
Khris – Bass
Ben G – Guitars
Vincent – Vocals
Rating: 6.5 out of 10
~Carnivean
Death Throne
"Promised Virgin"
2011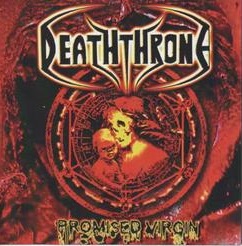 The first track that I listened to was Promised Virgin. From the opening riff to this song I was like Clutch is suing someone. While I can not tell you which Clutch song, because I would have never ever listened to anything that light, not unless there was a female presence driving me to do so, I have heard this riff before. But Death Throne is not like Clutch overall. Vocally there is a nod to older Glen Benton. Deicide Rules! Track 2 Evilution Part 1, is where you hear it the most including the vocal doubling. I hate to invoke, Opeth again having just done so in another review, but the lighter experimental moments of this musical offering really remind me of there work as well. Most specifically on Solitude.
Promised Virgin is promising, but needs a bit of tightening and structure. Evilution part 1 and Part 2 are the strongest tracks. While I liked them, it is because I was thinking of the all mighty Deicide the whole time. I recommend giving these guys a listen.
Tracklist:
1. Blasphemy
2. Evilution Part 1 Legions of Hell
3. Promised Virgin
4. Evilution Part 2 Pandemonium Rising
5. Solitude
http://www.myspace.com/thedeaththrone
Members:
Ben: Guitars
Khris: Bass
Cédric: Bass
David: Guitars
Alghol: Vocals
Philippe: Guitars
Rating: 7 out of 10
~Alaric Barca
alaricbarca.com