Death Mechanism
"Twenty-First Century"
2013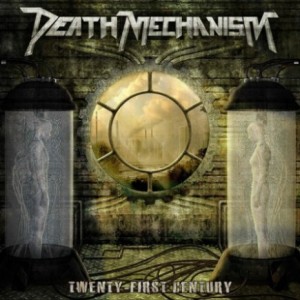 I have heard Pozza compared to Mille from Kreator. I love, Mille, and have listened to the song Enemy of God uncountable times. I think Pozza has something different. There is an aggressive sharp psychotic attack that is really impressive and listenable instantly. The songs are composed of thrashy heavy riffs and the guitars tones are great except when the guitar solo comes they seem to get mixed down instead of showcased. The solos are comprised mostly shredder runs and have a strong familiarity to the past but are still very listenable. While Death Mechanism should be in the thrash category I would definitely put the attack and intensity of the band in the Death Metal camp. This is a really solid album and I would recommend checking them out.  Another awesome effort from Italy.
Tracklist:
1. Monitored Procreation
2. Earthly Immortality
3. Human Limits
4. Evolutive Deviation
5. Tipping in Front
6. Obsolete Cults
7. Hidden Legacy
8. Century of Lies
9. Exotropy
10. Collapse 2000 A.D.
http://www.deathmechanism.altervista.org
https://www.facebook.com/Death-Mechanism-Thrash-Metal–333201351927/
Members:
Pozza – Guitars/Vocals
Manu – Drums
Pedro – Bass
Rating: 8 out of 10
~Alaric Hannibal Barca