Death Control
4 Track E.P
Great Dane Records
Released 1st September 2015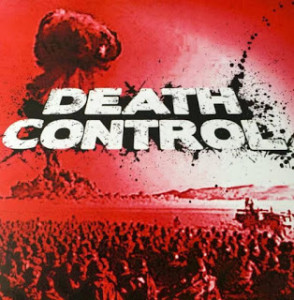 Death Control – Lille, France
Links:
https://www.facebook.com/deathcontrolband
Listen here:
https://deathcontrol.bandcamp.com
All songs written by Chris Dufour and his son Killian
Lyrics and arrangement by Death Control
Recorded by Chris Dufour
Mixed at HDD Records by David Herreman and Geoff (Great Dane Records)
Mastered by David Herreman
Cover by J Deth
Genre: Death Trash Metal
Biography:
"DEATH CONTROL was formed in September 2013 by Christophe Dufour ex bassist of Disgust. After several years' experience using different styles and a break of three years, he had the desire to compose his own compositions in a style like TRASH-DEATH. The challenge was to find the appropriate musicians for the job.
Surrounded by Farid (solo guitar) and Peter (drums), both playing in the HAST group and Steeve (singer) and Olive (Bassist) after only a few rehearsals, this choice was confirmed. In October 2014 their first gig opened with NATRON and made a very good impression with the public in Lille. After a few months DEATH CONTROL recorded their first E.P (drums were recorded in LB Lab in 2014.) Guitars and bass have been done by Christophe Dufour himself.  For the mixing and mastering, they called in David Herreman former singer and Krhomadeath – Geoffrey Buyens ex Disgust guitarist and co-founder of the GREAT DANE RECORD label in their Studio HDD Records. The E.P was released on 1 September 2015. The group currently have 9 tracks and plan to play some dates to promote the E.P before returning to the studio in 2016!"
The Beast – No messing about the familiar sound of sampled voice looms largely into the speakers and winds its way unmercifully to the ears. The sharp tones scream feistily through an abundance of kick beats that glaze over a savage melting pot of metal riffs. There is also incorporated into their savagery a hard core melodic quality with addictive hooks that are impossible to fathom in this melee of rhythms.
Absurd Massacre – Carrying on through their malignant haze of rhythms this track bites furiously at the ears and pummels with sheer emotion. It throws itself whole hearted into its rapacious unruly and obnoxious toxic riffs and rouses with utter virulence, but not forgetting its melodic encounter making it one feisty track indeed.
Groovy Cadaver – This track edges its way forward and does it with deliberation. It reaches its climax soon after and goes all-out for the kill. The seething vocal offerings are increasingly torrid and fiery, leaving nothing to the over indulgent imagination.
Satisfy your Urges – Always the same with E.P's of only four tracks, no sooner do you get into them and start feeling the momentum build they are over. However this track perpetually creates havoc and delivers with a full on potent frenzy! Yes my urges are now well and truly satisfied!
Summary
This is one superb E.P despite its brief outing into the world of metal. It savagely attacks the aural and leaves the owner fighting for breath. It never lets up for a second. It's striking, bold and utterly menacing, unleashing a welcoming assault that shows itself to be maniacal, with robust attitude that goes on killing until it ends.
Death Control does what it says and in no uncertain terms – this is one E.P that will excite the extremities and then some!
10/10
Track List:
The Beast
Absurd Massacre
Groovy Cadaver
Satisfy your Urges
Members:
Steev – Vocals
Chris – Guitar
Farid – Guitar
Oliv – Bass
Pierre – Drums