Death Blooms
Death Blooms
Self-released 4 Track E.P
Stampede PR
Release Date: 12th May 2017
By: Pagan Hel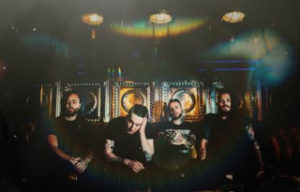 Death Blooms – Liverpool/Manchester
Links:
https://www.facebook.com/dthblms
Recorded at Red City Recordings, Manchester by producer and mix engineer David Radahd-Jones
Genre: Alternative Metal
Biography:
"Death Blooms are a new alternative metal quartet from Manchester and Liverpool. Armed with confidence, plenty of skills, social awareness and angst bubbling under the surface, their sound is both frenetic and infectious; seamlessly combining hardcore vocals with bullet-proof guitar riffs, bouncing grooves and oozing an abundance of modern melodic audio sonics.
The group's four track debut EP is short, sharp, pointy and for modern metal fans, probably one of the best things to be released by an underground band in 2017!"
~~~~~~~~~~
There are a few meaty track titles on this little E.P for sure, and the genre disturbs me as this is not the alternative metal I know and hear, this is nu-metal – the kind that rips your intestines out by riff alone. The word 'Alternative' is far too lame a word to be attached to a band of this calibre and perhaps needs re-thinking.
I love the vocal screams and the whispers that accompany it along with a brutal rhythm it just savages the ears like a rabid dog chewing on a bone! The term 'sic' can be likened to a band like this, but obviously in a very good way. They know just how much melodic rhythm and harsh tones to make the mix perfect!
It is a moreish legion of musicians who know the direction in which to travel *naturally and will sweep anyone aside who doesn't believe so. 'Hate Die' musters up some cruel and harsh beats that really get under the skin and infects with a rabid appetite.
'Last Ones' just as vile as the previous track runs away with itself and thrusts the listener into a void of manic grooves! More clean vocals on this track but it's not to say it doesn't hold its own as it develops its character and a tenacious rhythm that explodes like a volatile volcano!
'I'm dead' can be likened to a musical battleground as it pulverises everything in its wake, with powerful riffs and deadly drum beats. Your ears need to be lead lined so as not to bleed at the ferocity that has been summoned on this track! Outstanding!
'Sick' ignites without the match, as I mentioned at the beginning of this review everything seems to come *naturally with Death Blooms – there doesn't seem like any effort is attached and that is not to say there isn't it just means that the band can produce a natural sound like we do breathing, it is a natural thing that occurs when four like-minded musicians get together. It is very appealing indeed!
This band will continue to thrive if it is allowed to 'bloom' the way it is progressing – and I certainly hope so as we need more of this musical aggression and less aggression towards each other.
Also emotionally charged it just wreaks havoc and is so easy to like – it may be harsh but it also includes a very melodic core that is energetically arousing and will keep you on your toes for a long time to come!
In the words of Oliver Twist – "Please Sir, Can I have some more!"
9.5/10
Tracklist:
Hate Die
Last Ones
I'm dead
Sick
Line-up:
Paul Barrow – Vocals
Ad Lucas – Guitar
Ben Grimsley – Bass
Mel Stewart – Drums