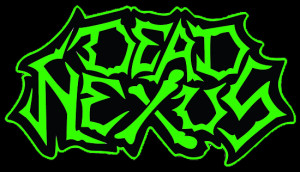 Summon: How did the band get started?
Dan: The band was started when Ryan and Phil got together and started jamming after the death of Ryan's father. Shortly after Ryan got a hold of Dan and things really started to come together. Ryan and Dan had been trying to meet up to jam but they live 80+ miles apart. We tried many bassist out and some stuck around for a few months while others only a practice or two. This constant search for a bass player held us back for a long time. Then we finally got Charles Cooksey on the bass and he learned everything quick and we in business.
Phil: I (Phil) met Ryan over thanksgiving 2012, Ryan brought Dan in April of 2013.
Charles: The band started with Phil, Ryan and Dan jamming together.
Summon: What kind of music do you play?
Dan: It's hard to categorize your own music but I would say Death Metal.
Phil: Thrash Metal
Charles: We play Metal music.
Summon: How has the fan response been?
Dan: We have a small following in a few of the major cities around us; Salem, Portland, Eugene, Vancouver.
Phil: Great!
Charles: The fan response has been fantastic.
Summon: Where did the band name come from?
Dan: Coming up with the name of "Dead Nexus" took quite a long time to come up with. We basically had a list with 100 or so words on it and after every practice we would grab a beer and widdle away at and make sure whatever we liked wasn't already taken by another band. The word Nexus means connection and we were brought together over the dead BAM=Dead Nexus, connected by the Dead.
Phil: Many bears, lists and discussion.
Summon: Introduce the band members and what they do in the band.
Dan Hughes: The Shred – Front man vocals and lead guitar
Ryan Bailey: Rhythm guitar and clean vocals
Phil Rivera: Philthy Phil – Drums and backup vocals
Charles Cooksey: Bass
Summon: Who writes the music? Lyrics?
Dan: I (Dan) writes a majority of the music and lyrics. Dan will usually pitch a few songs to the band and let them take their pick. The songs usually get a bit of restructuring and everyone adds their own style and parts to the.
Phil: Dan writes the lyrics and main riffs.
Charles: We all mold each song, in general Dan will write some riffs and then we'll build from there, adding lyrics as we go.
Summon: And where do the lyric ideas come from?
Dan: I usually write about society or religion and how screwed up it is and of course how everyone's going to die.
Phil: The Spawn of Satan!
Charles: Lyrics usually come from the track title.
Summon: What is your view in Satanism and Occultism?
Dan: I don't believe in that nonsense but it can be entertaining like vampires, zombies or werewolves.
Phil: I don't know.
Summon: How many albums/CD's have you released?
Dan: Our first CD "Departure" came out in July 2014. We have since put out a demo with our bassist Charles. The demo titled "Death & Decay" was released in April and featured four songs two new and two re-recorded.
Charles: We've released one album and we'll be releasing a second album soon.
Summon: Tell me about some the songs on the latest CD?
Dan: "21 Grams of Hate" starts off with a good groove and picks up when the vocals come in. It's loosely based on the Doctor Duncan MacDougall who at the turn of the century was trying to prove if a soul was real. He weighed people right before death and as they died. They all lost about 21 grams, so it came about that 21 grams is the weight of the soul. "Blinded Lies" is a more complex song with a lot of technical parts to it. The vocal are also more complex with Ryan performing the clean vocal sections. The song is about religious fanatics who let religion guide their life's. The kind you read about who don't let their kids go to the doctor and they end up dying or the people who wage wars in the name of religion.
Phil: Death!
Charles: The newest songs are all metal.
Summon: Do you have any side projects?
Dan: Ryan has a side project, a metal band, where he is the lead singer performing mainly clean vocals. I don't believe they have a name yet.
Phil: No.
Summon: Who are some of your musical influences?
Dan: I love the old Death Metal bands like Death, Carcass, At the Gates, Slayer but I also love the new Tech Death bands.
Phil: Old Sepultura, Exodus, Rush, Black Sabbath.
Summon: Which current bands?
Dan: Tech Death bands like; The Faceless, Obscura, Necrophagist, Beyond Creation, Archspire. I also like some Melodic Death Metal every once in a while; Scar Symmetry, Soilwork, Children of Bodom.
Phil: Revocation, Warbringer, Incite, Dust Bolt.
Summon: What is the band like when you play live?
Dan: Loud and aggressive but still professional.
Phil: Fucking Heavy, Loud and Focused!
Charles: Fast and focused.
Summon: Have you guys ever played in another country?
Dan: Not yet.
Charles: So far Dead Nexus hasn't play in another country, but we have a lot of Canadian fans online. It'd be great to play a show in Canada.
Summon: How big of crowd shows up at shows usually?
Dan: 15 -25.
Phil: 5 people.
Charles: The crowds we play for are usually about 40 people.
Summon: How is the crowd response when you play?
Dan: If they are in to newer Metal/Death Metal than they totally dig it. If they are looking for country or anything else than they have come to the wrong place.
Phil: Really good!
Charles: Beers up and head banging. The crowd is crazy, I don't how these people cope without ear plugs.
Summon: What do you think of the US Black Metal/Death Metal scene?
Dan: There seems to be a ton of local acts and less and less bigger acts coming through. Sad to see fewer people coming out to see the Metal legends.
Phil: Good Shit!
Summon: What do you think of the Overseas scenes?
Dan: Don't really know much about them.
Phil: Good as well.
Summon: What are some of new favorite black metal/death metal bands?
Dan: Tech Death bands like; The Faceless, Obscura, Necrophagist, Beyond Creation, Archspire. I also like some Melodic Death Metal every once in a while; Scar Symmetry, Soilwork, Children of Bodom. Jeff Loomis too.
Phil: More into Tech Death.
Summon: When do you guys plan on writing any new material?
Dan: We have a few new songs in the works.
Phil: All the time.
Charles: Our next practice.
Summon: What does the future hold for the band??
Dan: In August we will release our new CD which will have 9 songs on it. We will have a CD release party and play a bunch of local shows. Hopefully late summer early fall we can go on a mini tour out of state. Then we will get back to writing new material and record a new demo.
Phil: Hard work, good times and a new logo.
Charles: A CD release party in 2015, tons of shows and new music videos.
Contact them at:
https://www.facebook.com/deadnexus
http://deadnexus.bandcamp.com/
http://www.reverbnation.com/deadnexus
https://www.youtube.com/user/deadnexusbandor