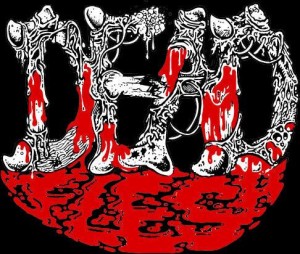 DEAD FLESH has finished recording its 1st full length release "Returning from Decay" (19 songs). The CD is out now and is officially distributed by SEVARED RECORDS.
Guest vocals on the album – Juan Campo (Xaphan), Brian Fitzgerald (Cystic Dysentery), & Brian Smith (Dead Centre)…
Mark Cooper (aka Mindrape Art) is our artist and he kicks ass!!!
Songs recorded at VISION SOUND in Orange Park, FL…
Dead Flesh is Dave Carrin (guitar/bass/vocals) & Joe Tompkins (vocals)
– Dead Flesh formed in mid 2003
– Recorded 1st EP "Brutal Torment" early 2004
– Recorded 2nd EP "Unleashing the Kingdom of Dis" mid 2005
– Recorded 3rd EP "Diabolical Tales" late 2006
– Recorded 4th EP "Fragments of Gore" mid 2007
– Recorded 1st LP "Returning from Decay" mid 2008, released in January of 2009 by SEVARED RECORDS
Past Members:
Vocals – Brian Fitzgerald
Bass – Sicass, Kyle Sweeny, Goat
Drums – Preston Tompkins, Juan Campo, Kyle Sweeny
Dead Flesh has played shows w/ Origin, Misery Index, Deicide, Exhumed, Vomit Spawn, Malevolent Creation, Cryptopsy, Xaphan, Cattle Decaptation, Arsis, Phallic Decapitant, Impurity, Vital Remains, Ninety Minute Reflex, Queef Huffer, Dark Castle, Unmerciful, Embalm the Living, Swashbuckle, & many others…