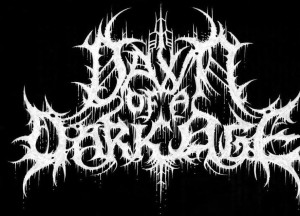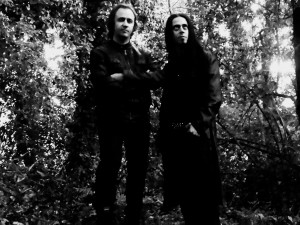 Summon: How did the band get started?
Eurynomos: Dawn Of A Dark Age was born last January.
Summon: What kind of music do you play?
Eurynomos: We play black metal, but tainted by different genres that permeates the compositions, especially for the use of wind instruments such as the clarinet and saxophone, trying new colors, unusual in the genre.
Summon: How has the fan response been?
Eurynomos: We are really pleased with the reaction of the fans of black metal, as well as fanzines and fans who decide to support us, to bring to an end our mission.
Summon: Where did the band name come from?
Eurynomos: The name Dawn Of A Dark Age has to do with the nature and its elements, and with the modern man and his ego, the war, nuclear tests, causing nature to rebel against him. This is the leitmotiv that recurs throughout the six albums that form the whole 'saga' "The Six Elements".
Summon: Introduce the band members and what they do in the band.
Eurynomos: The band is composed by me (Eurynomos) and Buran.
Summon: Who writes the music? Lyrics?
Eurynomos: I compose music and lyrics and play all instruments, while Buran is the vocalist.
Summon: And where do the lyric ideas come from?
Eurynomos: The lyrics concerning man's relationship with nature and with higher beings and supernatural. The alienation of modern man, who has everything but doesn't have anything, it leads to madness, to make slaughter against nature and against his fellow man.
Summon: What is your view in Satanism and Occultism?
Eurynomos: Regarding Satanism I'm not so interested in, especially for this project. The occultism in our music, or rather in the overall project, is seen as symbolic associations and numerical correlate with those who are the six elements. To get an idea all discs will be composed of 6 tracks, 2 of which are instrumental for a duration of 36 minutes flat. They will come out at the exact distance of six months of each other and so on. You'll notice in the text as in later records that there are elements and symbols that will come back periodically, as the leitmotiv, which take inspiration from the occult and beyond.
Summon: How many albums/CD's have you released?
Eurynomos: EARTH is the first one of the 'saga' "The Six Elements". Each of the six albums will explore new territories and lands, that I feel more in touch with the elements in question.
Summon: Tell me about some the songs on the latest CD?
Eurynomos: As the title suggests, Earth, the sound I have in mind for this project is the sound of nature, in his prime, in contrast with what is the human discomfort, who continues to abuse, fueling and satisfying his continuous thirst for power. For this I am opposed to the sounds (almost) clean that tend to the perfection of nature (drums, bass, horns) with those who are the frustrations of modern man, the distinctive black metal, distorted and raw guitars.
Summon: Do you have any side projects?
Eurynomos: Yes, we do it! Buran is the leader of the black metal band Athanor and death metal band Hellsteps, and I'm busy with two projects, R-Evolution Band (Prog Metal) and the newest Suicidal Ruin (Depressive Suicidal Atmospheric Black Metal), one man band that will release the first EP next September.
Summon: Who are some of your musical influences?
Eurynomos: The Scandinavian scene first, with bands like Marduk, Darkthrone, Mayhem, Immortal and Dissection. But classical and modern composers as well, like Beethoven, Penderecki, Webern and especially John Zorn for songs' arranging and composing.
Summon: Which current bands?
Eurynomos: There are very many bands today, is very difficult to have a preferred band, but bands like Wolves In The Throne Room and Imperium Dekadenz are very interesting from my point of view.
Summon: What is the band like when you play live?
Eurynomos: We're a duo, but actually we're searching musicians to add for live.
Summon: Have you guys ever played in another country?
Eurynomos: Not with this project. This is new and we hope to start a tour very soon.
Summon: What do you think of the US Black Metal/Death Metal scene?
Eurynomos: In my opinion is very great and massive, with a killer-sound and there are many very powerful bands like Immolation, Suffocation, Morbid Angel.
Summon: What do you think of the Overseas scenes?
Eurynomos: It's very massive too, but at the same time very different from the American scene…Band like Mayhem, Behemoth, Emperor, Vader…they are very incredible!
Summon: What are some of new favorite black metal/death metal bands?
Eurynomos: There are many interesting bands, I like Seeker, a good avant-garde/black metal band, Trench Rot, an old school death metal, both from US, and the Spanish Wormed, They are very incredible!
Summon: When do you guys plan on writing any new material?
Eurynomos: We're already working on new stuff for the second chapter of the 'saga' The Six Elements. The new album will be released January 1, 2015, exactly six months after Earth.
Summon: What does the future hold for the band?
Eurynomos: We hope to find out a very strong line-up to start with live session involving as much people as possible in this difficult but very exciting and unique project.
Contact them at:
https://www.facebook.com/dawnofadarkage
https://myspace.com/dawnofadarkage
www.youtube.com/dawnofadarkage