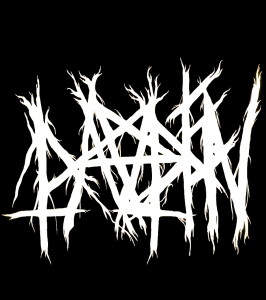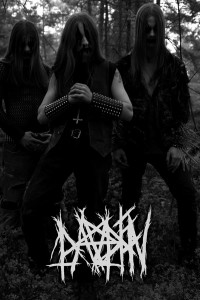 Summon: How did the band get started?
Malignant: It all started in 2005. Only a few concerts were played. After a while the band stopped because of no ambitions, I got some contact with the former members. So in 2007 I was asked to join and build up the band.
Summon: What kind of music do you play?
Malignant: Dauden operates under genre Black metal. We create what we do and make it sound like Dauden. We express and show music in its ugliest way.
Summon: How has the fan response been?
Malignant: Good. Seems like people like what we do. We notice this after concerts and on the Internet world. We're gone continue what we are doing in the best way.
Summon: Where did the band name come from?
Malignant: Early Norwegian history. In 1349 when Norway was hit by plague. The band name itself Dauden is a Norwegain word and means in english: Death. In my mind when creating music I have and use pictures that can refers to the history.
Summon: Introduce the band members and what they do in the band.
Malignant: Dauden is:  Drakamer- Vocal, Stûrm- Guitar, Berserk- Bass and Malignant- Drums.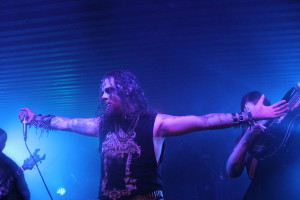 Summon: Who writes the music? Lyrics?
Malignant: Drakamer do all lyrics. The music is mostly made by me. We find rehearsal very important, so as a band we do decisions and improve the music at that time.
Summon: And where do the lyric ideas come from?
Malignant: The brain of Drakamer. The lyrics are based on the negative side of everyday. Human hatred, Devil worship can be used in the lyrics.
Summon: What is your view in Satanism and Occultism?
Malignant: On stage or otherwise in everyday life I always carry the cross, upside down. Its satisfying and it proves my opinion if I like the religion Christianity or not. I don't support and I look down on Christianity. Inside me where no one sees me I live and use my dark side. Write, create, do actions or perform on stage is related to this side.
Summon: How many albums/CD's have you released?
Malignant: We released the first demo-CD named Byllepesten In 2008. In 2011 we released a four track EP, which has been re-released in 2013. All releases are self-released by the band. We search for a label now days.
Summon: Tell me about some the songs on the latest CD?
Malignant: The song Goatblessed is one of the four tracks on the EP. An aggressive song, dressed with a lyric that leads through a detailed episode where a girl becomes the victim upon the stone of death. All the songs on the EP are about using the negativity and die for the right things. The other tracks are named: Foraktelse (Contempt), Forbannet til evig jord (Cursed to the eternal earth) and Sucked into the Depts of hell.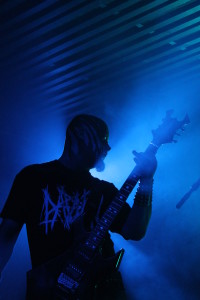 Summon: Do you have any side projects?
Malignant: I work with a rock band where I do drums. Rebel Overdrive. Two different styles, but that's how it goes.
Summon: Who are some of your musical influences?
Malignant: My influences are my lifetime registry of music. Have favorite bands, but I don't try to copy what they create. Every part from the register is the reason of the music I create.
Summon: What is the band like when you play live?
Malignant: Chaotic. So much disruptive and disharmonic moments in 45 min. In that period we focus on doing a good performance. The most representing songs are selected. From all releases and new songs. Beside the music and the words that are spoken on stage, we reinforce it with symbols like crosses, flames to make the right picture/mood.
Summon: Have you guys ever played in another country?
Malignant: Have played festivals in Netherland and Denmark. Good memories and hope to get out again soon.
Summon: How big of crowd shows up at shows usually?
Malignant: Different from concerts and festivals. 50-100.
Summon: How is the crowd response when you play?
Malignant: Mostly we have done concerts in Norway. Have also done the concerts and festivals in Netherlands' and Denmark. And I got to say that the last concert In Denmark at the Dark Mental Festival hits our best response. Good crowd. We see that the crowd dig it and that is really motivating. Often we meet people after the shows, then we get to know what they really think. So far positive.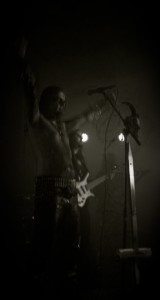 Summon: What do you think of the US Black Metal/Death Metal scene?
Malignant: The death metal scene in US is good. Such as Deicide and many other good bands. Haven't followed the black metal scene in US so much actually. Hope to play in the US some time.
Summon: What do you think of the Overseas scenes?
Malignant: Like it very much. Touring and do concerts in other countries is the best way to go. Dauden haven't been so much overseas yet, but in the future I hope we get chances to do this often.
Summon: What are some of new favorite black metal/death metal bands?
Malignant: From the last few years I have heard many good new bands. We discover new bands when we play concerts to. But don't have any favorites.
Summon: When do you guys plan on writing any new material?
Malignant: Today we are recording our debut album. Have great expectations to this album. The plan is to release it in the end of this year.
Summon: What does the future hold for the band??
Malignant: We will focus on create the new album. Then bring this piece out to everyone ho wants to her it. We are ready.
Contact them at:
https://www.facebook.com/Dauden.norway
http://www.reverbnation.com/dauden