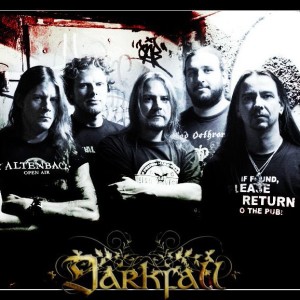 Summon: How did the band get started?
Thomas: Back to 1995 we decided to found our own band due to our fascination for loud and heavy music. After discussing some strange band names, DARKFALL made the race.
Summon: What kind of music do you play?
Thomas: DARKFALL's style could be defined as a raw mixture of Thrash and Death Metal. We have an old-school attitude combined with modern sound qualities.
Summon: How has the fan response been?
Thomas: I think that DARKFALL has a strong fan base and it grows constantly. Of course we are still an Underground band, but we are working to improve and to reach higher levels.
Summon: Where did the band name come from?
Thomas: The name DARKFALL was inspired by same-titled book, written by Dean R. Koontz. Back in time we searched for a dark and atmospheric name and in my opinion DARKFALL perfectly fulfills this requirement. And of course it's very catchy.
Summon: Introduce the band members and what they do in the band.
Thomas: At the moment the band consist of our two guitarists Sascha Ulm and Stephan Stockreiter, our bassist Markus Seethaler, our drummer Thomas Kern and myself, Thomas Spiwak, on vocals. It took a long time to set up this line up and I really hope that it will last for a long time.
Summon: Who writes the music? Lyrics?
Thomas: Everyone of us is totally involved in the musical development process, but regarding our instruments everyone plays his own role and has got his main working area. And based on that fact, the lyrics belong to my responsibility.
Summon: And where do the lyric ideas come from?
Thomas: In general our lyrics deal with many different themes, but  on our last album "Road To Redemption",  they are about a concept of life and death. They describe different ways to die and to reach death as our final redemption. Each song stands for  its own, but still is a part of the whole concept. The lyrics on "Road To Redemption" are based on fictional stories, historical facts and personal experiences.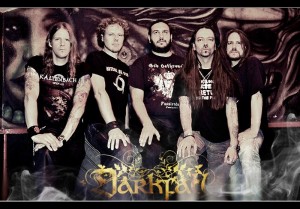 Summon: What is your view in Satanism and Occultism?
Thomas: A very interesting theme and years ago I was much more into it and read a lot of books about these issues.
Summon: How many albums/CD's have you released?
Thomas: By now we have released four EP's named "Winter leaves", "Dimensions beyond", "Firebreed" and "Phoenix Rising" and one compilation named "Through Fiery Times And Beyond", including a CD and a DVD with a live show recorded at Kaltenbach Open Air, a legendary festival here in Austria. And a few weeks ago have released our new album "Road To Redemption" via Noisehead Records. 
Summon: Tell me about some the songs on the latest CD?
Thomas: The songs on "Road To Redemption" are a mixture of our old trademarks like down-to-earth riffing with catchy melodies, pounding drums, harsh vocals and a modern sound production. On our new album you can find mid-tempo hymns as well as up-tempo thrashers and in general every Thrash/Death lunatic should find something to bang his head to. On YouTube you can find some official clips for the songs "Fading Away" and "The Gods Await", so check them out and get your copy of "Road To Redemption".  
Summon: Do you have any side projects?
Thomas: At the moment I personally don't have any side projects, but some years ago I was involved in a Black Metal band named Impurity and a Brutal Death band named Delete. Actually our drummer Thomas plays for two other bands named Illuminata and Soul Of Wit as well as our bassist Markus is involved in Invented Heart Attack. And last but not least our two guitarists Sascha and Stephan are also part of Cremation, but as I know this project is still on hold.
Summon: Who are some of your musical influences?
Thomas: In general we don't try to copy any other bands or to sound like them, but of course everyone of us has his own personal favorites and indirectly these bands influence our music. But I really don't want to mention any band names because everyone should build up his own opinion on "Road To Redemption". But in general the international metal press compared us with many different bands and so it seems we cover a great range of styles and tastes.
Summon: Which current bands?
Thomas: Our influences belong to old school bands and DARKFALL hails its old heroes while updating these sounds with new components. For sure we are not a temporary fashion band. 
Summon: What is the band like when you play live?
Thomas: On stage DARKFALL is like an explosion of pure fucking Metal and we just want to perform and go to the limit. We just want to kick asses!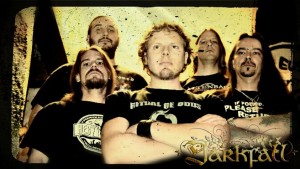 Summon: Have you guys ever played in another country?
Thomas: With various tours and several hundred played concerts in quite a few countries like Austria, Germany, Czech Republic, Slovakia, Hungary, Slovenia, Switzerland, Italy and Greece DARKFALL do not only provide evidence for their experience, but also prove their quality. To go on stage is one of the biggest things and we are very proud that we have and had the possibilities to do so.
Summon: How big of crowd shows up at shows usually?
Thomas: It's totally different and this question is really hard to answer. There are many criteria like date, billing, etc., which can influence the attendance. Sometimes we play smaller club shows with about one hundred guests and sometimes we play bigger festivals shows with several hundreds of guests. It's changing, but every show has its own character and feeling. 
Summon: How is the crowd response when you play?
Thomas: Mainly the reactions are quite positive. On stage we just try to give our best and we just want to metal up the crowd. I think the crowd just feels that the stage is our home and gets infected by this pure energy. For us it's a privilege to play live for the fans and they just honor it with positive reactions. So it works and both, fans and band are satisfied.   
Summon: What do you think of the US Black Metal/Death Metal scene?
Thomas: As I live in Europe I don't know many details about the American scenes themselves, but of course I know many American bands, especially Death Metal bands, from the United States, which are really strong and well-known in Europe as well. It would be a great honor for us if we could play a US tour, so let's hope for the future.   
Summon: What do you think of the Overseas scenes?
Thomas: Europe or most of the European countries got really strong Metal scenes and maybe in Europe you can find some kind of excess supply regarding bands and shows. I don't know what scene is the strongest, but I'm sure Europe definitely owns very strong scenes, which can compete worldwide.
Summon: What are some of new favorite black metal/death metal bands?
Thomas: Of course I have some favorites, but I'm more into the old-school bands.
Summon: When do you guys plan on writing any new material?
Thomas: We'll start working on new material during the next few weeks. So we hope that we will be able to release some new stuff at least in 2015. At the moment I'm not sure what the new material will sound like, but I'm sure it will be a continuation of our legacy with some fresh blood. But it will be pure fucking Metal, that's for sure!
Summon: What does the future hold for the band??
Thomas: Hopefully world domination. And if not, we would be fine with a great tour on our new album "Road To Redemption" and tons of shows and metal. Keep on banging and thanx for the support! Thomas Spiwak & DARKFALL.
Contact them at:
https://www.facebook.com/DarkfallMetal
https://myspace.com/darkfallmusic
http://www.reverbnation.com/darkfallmusic