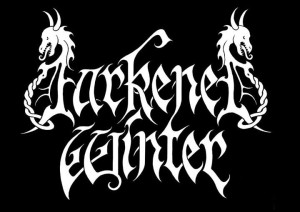 "Darkened Winter" is a one-man Ambient / Black Metal project Hailing From Adelaide, South Australia. formed by Winterdemon between 2007 – 2008.
After looking for members to form a black metal band for some time, the decision was made to go solo.
– 2009 the first recordings began which resulted in the album / demo entitled "Gates To Eternity" this release also featured 2 instrumental tracks. 200 free numbered copies of this album were released in Adelaide.
– 2010 saw the completion of his second album / Demo entitled "Raiders of Northland", A Few Rare Copies Were Released Of This, also in the same year "Northwind" was formed which is his one-man medieval / folk / ambient project, which a self titled demo was also completed. 
– 2012 After a 2 year break, the new album "Rise Of The Pagan Flames" was released.
– 2013 the new independent online store WINTER REALM was launched, making Darkened Winter's music more readily available and where you can purchase all albums / Merchandise With shipping available Worldwide.
Also the new completed double CD album "Yggdrassil: Journey Throughout The Nine Worlds" was completed.
Currently Winterdemon is working on his 5th album entitled "Tumulus", Details and release dates for this are not known as yet.