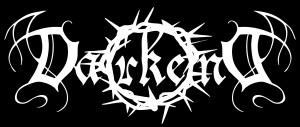 Hailing from Italy since 2006, DARKEND have built themselves quite a reputation on the metal scene for being an impressive live act and not least for pioneering a new genre: EXTREME RITUAL METAL.
While their debut offering "Damned Woman And A Carcass" (2007) was a fine piece of symphonic black metal, the following two releases, "Assassine" (2010) and "Grand Guignol – Book I" (2012), enhanced the band's individuality in sound and image alike, combining sinister extreme metal with black metal patterns, classical symphonies with obscure ecclesiastic chants and nocturne ambiance, featuring some of the heaviest sulphur riffs and greatest guitar solos.
After numerous shows on Italian territory opening for notorious BEHEMOTH, MARDUK and IMPALED NAZARENE, it was "Assassine" that tore the curtains of obscurity and took DARKEND abroad to tour throughout Europe with ROTTING CHRIST, SAMAEL, MELECHESH & KEEP OF KALESSIN, bringing on stage a magic combination of sound, theatre and occult ceremony: from esoteric costumes and incense burning to ghastly skulls, grave candles and dead branches, every single detail is meant to build an atmosphere of bleakness and horror.
With rave reception by fans and critics, the new album "Grand Guignol – Book I" consolidated the band's spot on the international metal map and set the stage for further events in autumn 2012, when DARKEND proudly embarked on a long, crushing European tour supporting legendary CRADLE OF FILTH & GOD SEED. Later on they closed the year at Germany's "Satans Convention" sharing the stage with the likes of TAAKE and INQUISITION.
2013 saw the band perform at some exciting European festivals alongside MAYHEM, IMMORTAL, KREATOR, SODOM, DESTRUCTION, BELPHEGOR, SHINING, 1349 and many other iconic acts, and 2014 kicks in with new live rituals in equally stellar congregations!
"What you get here's not simple music: DARKEND will transmit you fear. Real Fear."
(ROCK HARD, INT)
"The essence of black metal driven by an evolutionary vein that has no equal in the world scene: excellent!" (METAL HAMMER, UK)
"A fantastically written, masterfully performed and overall just an amazingly executed foray into musical grandeur" (GLOBAL DOMINATION, SWEDEN)
"The music screams its way through your head, tearing apart any sense of decency left inside you."
(METAL SHOCK, FINLAND)
"With their third album, the Italians Darkend give rise to a monstrous spectacle, injecting an overdose of terror in our minds."
(METALHEAD.IT, ITA)
LINEUP:
Animae – Litanies
Ashes – Lead Guitar
Nothingness – Lead Guitar
Specter – Bass
Antarktica – Piano & Orchestra
Valentz – Drums
CONTACTS
www.darkend.it
www.facebook.com/darkendofficial
www.youtube.com/darkendband
mail to: info@darkend.it