Crucifer
"The World Dies 1989-1999"
1999, Wild Rags Records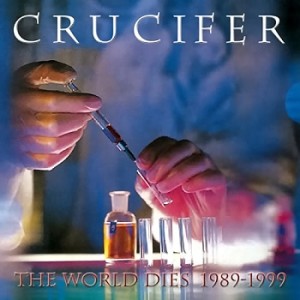 Crucifer's latest release, entitled "The World Dies 1989-1999", is one of the newer albums Christianity has to offer the metal scene. I guarantee you that the world will hardly die after this little ditty has left your stereo system. The production on this recording varies, but in general, it isn't anything to gawk over. The cover itself is all but intimidating, and the not so impressive music will leave the listener dying for less. The only plus I see in this album is the random insertion of double-bass breakdowns throughout. Other than that, each track is your typical 3-riff-per-song styling found in the late 80s' mainstream "metal" scene, mostly consisting of boring thrash bands and struggling/aging butt rockers. Aside from the music, the vocalist just sounds like he's trying to growl his kids to sleep. This is a great CD for the fans of so-called artists with almost no musical insight.
Tracklist:
1. Soul Within
2. Left Hand Path
3. Green with Envy
4. Sickly Divine
5. No Color
6. Grace
7. Dissatisfied
8. The World Dies
9. Separation
10. Sister Crematorium
11. Dawn of Time
12. False Sense of Hope
13. Pieces
14. Festival of Death
https://myspace.com/crucifer2007
https://www.reverbnation.com/crucifer
Members:
Steve Snyder – Bass/Vocals
Brian Ronquest – Guitars/Vocals
Jeff Riddle – Vocals/Drums
Rating: 2 out of 10
~Feceus