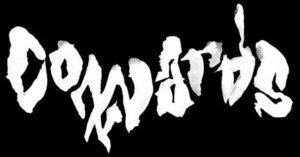 Cowards
"Hoarder"
2013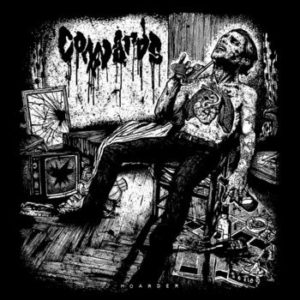 Delightful and repugnant Parisian assailants Cowards are back at it again with their second epic EP release. Hoarders is a five track EP, that dare I say brings it a thousand times harder in terms of raw emotion than their previous venture: Shooting Blanks and Pills. First of all, let's take a moment to gaze upon the tremendous cover art they have for this LP. The cover grabs you from the second you set eyes on the incredible scene of paralyzing despondency and gives you an overwhelming sense of unease. Art by respected tattoo artist and illustrator, Jean-Luc Navette effectively portrays this audacious, distasteful and mind-blowing (pun partially intended) symbolism. Well done.
Moving on, 'The Old City' starts us off right: slow, yet heavy and pulverizing… exactly what you'd expect from Cowards. Lyrics are filled with barbaric rabies that keep us steered on the path to destruction and the accented vocals that Julien delivers throughout this album feel more spineless and insolent than before. These lyrics seem like they come from an even darker place of regrets tied to abuse, which opens us up to intensely feel what Julien is inside, as he tears through us with his piercing vocals.
Drums delivered by Cedric L. in 'Smell of an Addict' are next-level in terms of pacing, syncopation and tempo which meld well with bassist Guillaume T. quite well. Guillaume takes the main stage in this track creating atmosphere, groove and sense of contention which leads straight into even more bad ass track, 'Fork Out'. This song packs so much energy and emotion in such a small amount of time that it would be pretty difficult to put brush it off. Pay attention folks: the blast beats and rhythmic tempo in 'Fork Out' are top-notch and a lot of fun to listen to.
Last track cover 'Blessed persistence' (a cover from an original 16 Horsepower track) is the icing on this neglected cake, this song has everything in one. Guitarists Adrien L. and Thibaut A. form a coma inducing riff that you hear becomes so engrained into your mind you'll be thinking about it for days to come. This cover single handedly is worth checking out the whole album. They make it their own and make no apologies for it.
With each release becoming progressively more in tune and exciting than the last. These guys are surely a band to look out for on the hardcore sludge circuit.
Please do yourself a favor and check out Cowards on Throatruiner Records & Ruins Records to get ready for their full-length release. Hopefully these brazen Parisians can really give us a rotting bone to pick soon.
Tracklist:
1. Old City
2. Smell Of An Addict
3. Fork Out
4. Where Lies the Anchor
5. Blessed Persistence (16 Horsepower)
https://www.facebook.com/cowardsparis
Members:
G.T. – Bass
C.L. – Drums
T.A. – Guitars
A.L. – Guitars
J.H. – Vocals
Rating: 7.5 out of 10
~L.L.
Cowards
"Shooting Blanks And Pills"
2012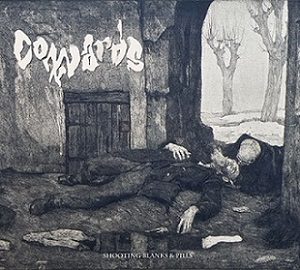 Cowards is a band that shows no remorse and gives you the ultimate in barbaric sludge, filling you with seething animosity that you didn't even know you had brewing inside you. It's hard to have any idea what to expect when you turn on Shooting Blanks and Pills, but you shouldn't be disappointed once you get going. The mixture of metal genres is combined for an intense effect like no other, even with the militant low-end vibe they radiate. This six track EP from French metalers "Cowards" is surely an EP to take heed to.
Shooting Blanks and Pills starts you off eerie and easy with track, "Hoarse from the Get Go", a super sick ditty that showcases Cowards skills, timing and creativity. They don't push too harshly on their opening and it pays off quite well. "Last Card" gives us that sweet Sabbath kind of head bob ballad with wah-wah effect from guitarists' Adrien Lederer and Thibaut Aguir, that would seem fairly streamline if it wasn't felt with such vigor and fervency. By the time the song reaches its dramatic end, the piece leaves you wondering where exactly you started.
"Scarce" is probably the most straight-forward song on Shooting Blanks and Pills, coming in at almost 10 minutes, this is the track that's truly showing their roots and influences ranging from slow stoner rock riffs to dramatic Sleep-like tempos, also the vocals from Julien Henri on this track are even more pronounced and give the fans something filled with pure detestation to latch onto. There's a rawness from this EP that most should believe is done with exactly the right distortion and tone for this release.
Lyrically the most orphic track would be "Arrogant Unseen" which touches on fairly involved subject matter. Tones throughout the EP range from anger to more of it, but on this track however I think we touch more than the surface. "Arrogant, Unseen" hits on subject matter more in depth such as bitterness and courage, giving us a real chance to get inside the psyche of this band. The only objection off this EP would be "Vices & Hate" feels like it's almost coming from too many directions, maybe an effort to snap you out of the transfixion they just put you in with "Scarce". The ending of this track however, brings it back and makes sure to remind you that there are no rules with Cowards.
This whole album is fantastic, and the melding of genres is done well; there's an impact filled with real emotion. You can feel from the first second this EP starts, these guys are complex and have a vision for what they are trying to distribute to the masses. If you're into grind, sludge, heavy metal… hell even if you aren't… just see if you like it. There's enough melding of different genres in this band that you can at least appreciate what they are trying to do.
Do yourself a favor and check these guys out on Throatruiner & Hellbound Records, and if you don't like Cowards recite their captivating lyric to yourself… "I see your failures".
Tracklist:
1. Hoarse From the Get Go
2. Last Card
3. Scarce
4. Vices & Hate
5. Arrogant, Unseen
6. Grand Failure
https://www.facebook.com/cowardsparis
Members:
G.T. – Bass
C.L. – Drums
T.A. – Guitars
A.L. – Guitars
J.H. – Vocals
Rating: 8.5 out of 10
~LL