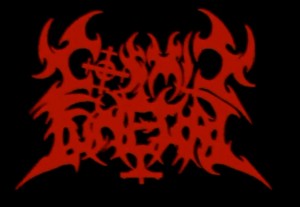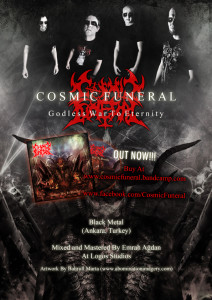 Summon: How did the band get started?
Iskit: Band started in 2009, in the beginning it was one person black metal Project. Than 2011, I decided to band.
Summon: What kind of music do you play?
Iskit: We use raw black metal with adding melodies and symbolic elements.
Summon: How has the fan response been?
Iskit: It was good from beginning, after we publish "Godless War To Eternity" EP, We have taken positive effects.
Summon: Where did the band name come from?
Iskit: I am big fan of Limbonic Art and Dissection. Band name formed by Limbonic Art's song "Cosmic Funeral Of Memories". Our main idea is universe is a death endless hollow. Cosmic Funeral is based with chaos theory.
Summon: Introduce the band members and what they do in the band.
Iskit: Bass
Mythlous : Guitars
Onur Uslu: Drums
Ali Vural : Keyboards
Murat Erdoğan: Vocals
Summon: Who writes the music? Lyrics?
Iskit: Generally I wrote musics and lyrics, but while recordings Mythlous and Emrah Ağdan (Mix and Master) puts great ideas what we have to do.
Summon: And where do the lyric ideas come from?
Iskit: Correct question is when, so making music is easier path, difficult to write lyrics. Our songs tells different things, religion, our roots, death , war..
Summon: How many albums/CD's have you released?
Iskit: From Ashes To Fire -2009
Godless War To Eternity -2012
Summon: Tell me about some of the songs off the latest CD?
Iskit: Doomsday tells the end of life and World its includes verses from Quran. Negligence Of Centruies: lyrics taken by one of poem which written by Atatürk (He's Founder of Turkey). We translated to English. It's telling about our roots Godless War To Eternity tells war and chaos. Serenade to Falen: melancholic and tells about grief.
Summon: Do you have any side projects?
Iskit: I don't have because I don't have time to try other projects but our drummer Onur Uslu plays his personal band Purgetory, our vocalist Murat is plays in A'khuilon.
Summon: Who are some of your musical influences?
Iskit: There are many but generally I like Limbonic Art , Dissection, old Dimmu Borgir, Darkthrone…
Summon: Which current bands?
Iskit: Hmmm I don't know about current bands, but recently I'm listening Kreator, Marduk and Naglfar's last albums.
Summon: Have you guys ever played in another country?
Iskit: Nope not yet.
Summon: What do you think of the US Black Metal/Death Metal scene?
Iskit: Of course when we think death metal U.S. homeland of death metal, But there are great black metal bands which I follow like Absu, Goatwhore, Kult ov Azazel, Nachtmystium, Vesperian Sorrow, Wykked Wytch.
Summon: What are some of new favorite black metal/death metal bands?
Iskit: I don't remember, I didn't recover new band recently.
Summon: When do you guys plan on writing any new material?
Iskit: We have new songs, and decide to enter studio end of August.
Summon: What does the future hold for the band??
Iskit: We are planning to play more shows and thinking to do best for black metal.
Contact them at:
http://www.facebook.com/CosmicFuneral
http://www.reverbnation.com/cosmicfuneral