Claymords
"Scum Of The Earth"
2013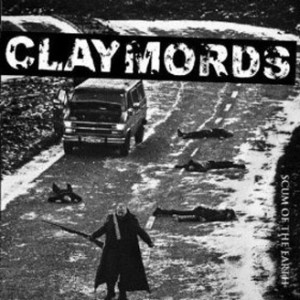 While the influences and styles are all over the place from Death Metal to a bit of Black, Thrash rhythms and even moments where I thought "this sounds like Dokken" on one song, Claymords for the most part makes it all work. At the same time it does make it hard to identify with. Crawling for me, which is the first track, is the best and most straightforward. By the second track Scum Of The Earth the style has changed and by the fourth we have what I call a Dirge track. Slow, somber with more talking than singing like a wake. The production seems really top notch like they had a solid budget. The lighter moments seem intentional, strange and sometimes off putting but not to be "different".  Art 3,Her Jealousy was another really listenable track, they all are. All in all Scum Of The Earth is an album I could come back to and listen to again. Slipknot goes all over the place with the styles and it is still identifiable, and perhaps that is my only real complaint here while they make it work it might take some time to get use to.
Tracklist:
1. Crawling
2. Scum of the Earth
3. Method of Lies
4. Filth
5. King of Death, King of All
6. True Norwegian Satan
7. Before the Insanity
8. Insanity Inc.
9. The Jury
10. Art 3 – Her Jealousy
11. Lovesong, of Hate
https://www.facebook.com/claymords
Members:
Petter Myrvold – Bass
Erik Rojas – Drums
Sune Eggen – Lead Guitars
Nils Ivar Martila – Vocals/Guitars
Rating: 8 out of 10
~Alaric Hannibal Barca