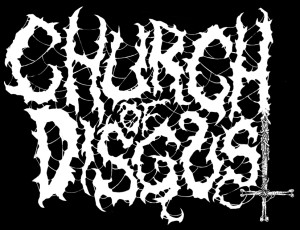 Church Of Disgust
"Invocation Of Putrid Worship"
2012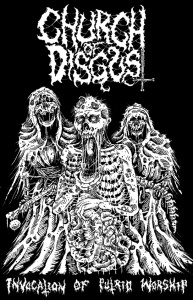 Named for the Nunslaughter song Church of Disgust is raw guttural death metal from San Marcos Texas. If you have not heard Nunslaughter I highly recommend them.
This Demo has a raw grindy doom sound. The vocals are growls and combined gives the whole thing a real sludge feel. The EP keeps the same pace until Lead Coffin and it gets a little thrashy just enough to pick up the pace. Then we get to the last song and they slow the whole thing down with Seven Sigils Of Infinite Void.
This is a good teaser EP. Makes me want to hear their full length album which I intend to do sooner than later.
Tracklist:
1. March the Horde
2. Cloud of Rot
3. Death Fiend
4. Lead Coffin
5. Seven Sigils of Infinite Void
https://www.facebook.com/churchofdisgust
Members:
Joshua Bokemeyer – Drums
Dustin James – Guitars/Vocals
Rating: 7 out of 10
~Alaric Hannibal Barca