Chronicles
The Measure
3 Track E.P
Electrify Events PR
To be released 6th August 2016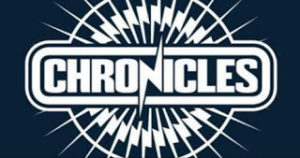 Chronicles – Midlands, Birmingham
Links:
https://www.facebook.com/chroniclesmetal
Genre: Street Mafia Geek Metal
Biography:
"Midlands based, 6 man strong 'Chronicles' have been forged together to unleash their unique, yet passionate brand of metal. Harnessing their love of everything 'Geek', the writing process is a relentless wave of thunderous riffs, harmonic/brutal melodies and skilful lyrics, bringing forward each member's personal influences. With subject matters ranging from Comic Book Heroes and Villains to cult classic films and video games, Chronicles are proud to unleash their brand of StreetMafiaGeekMetal
The anticipated debut single and accompanying video received critical acclaim from musical peers, industry and media. With an increasing portfolio of killer tracks, this is one band you need to catch live!
The debut live performance in a packed out Rock City Basement, not only delivered everything Chronicles had promised, it forged a new and distinct guarantee… 'Street Mafia Geek Metal' is here to stay!
2016 tour dates are being booked throughout the UK so please keep an eye on the announcements.
Metal heads, Geeks and Nerds around the world, we proudly give you….
CHRONICLES
~~~~~~~~~~
With yet another sub-genre emerging now in the shape of Geek Metal or Street Mafia Geek Metal to give it its full title one can't help but wonder that the world as gone truly insane!
Day vs Knight – is about Batman vs Superman
As you open the floodgates the release of scathingly boisterous rhythms come pouring out in torrent of abuse, but add in a melodic core that runs strenuously through its bones and you have this track summed up more or less! Vocally exciting while the guitar is superb. Nu Metal is truly here and stay it probably will!
Funboy – Is from the movie The Crow
Is another epic run of good versus evil with "the lead actor, Brandon Lee, being accidentally killed on the set during filming by a defective blank, only eight days before the film would have completed production" The music really packs a hard punch, with some eerie madness about it and the vocals holding superb pitch and range making it a favourite track so far!
The Measure – Is about Game of Thrones
I am certainly NOT a fan of GoT and never will be and so it isn't surprising that I am not as fond of the clean vocals on this track as they sound far too 'stiff upper lip' however, the gruesome growls that usher forth are tremendous and are openly welcomed. The guitar holds a bounce that steers its revealing and infectious groove with powerful drumming.
Summary:
For the most this E.P does hold some scintillating contents and rousing endeavours, but sadly let down by the final track as for me those clean vocals are just so not in keeping with the virulence of the track and make it sound so tongue in cheek which is a shame as the music is overwhelming with hearty chunks of metal running through its veins.
However, the power contained in the other two tracks are superb, the rhythmic allure is tempting and inviting and really draws the listener into its lair with seductive metal qualities. Its vibrancy emerges and holds a hypnotic factor within its warm parameters which will no doubt find favour and a niche in the metal community
8/10
Track List:
Day vs Knight
Funboy
The Measure
Members:
Leigh Dickens – Vocals
Bane Holland – Vocals
Leighton Mead – Bass
Thomas Larcombe – Guitar
Drew Cargill – Guitar
Paul Gore – Drums