Summon: How did the band get started?
Dimitri: The group was formed in 2011 when I met Jean-Philippe with the common goal of creating a modern metal project, professional envy, all based on a concept, this of mesoamerican mythologies. It's a very rich and complex culture with violent and bloody legends which feed our lyrics, grafisms and atmospheres in our music.
Summon: What kind of music do you play?
Dimitri: CHABTAN is a modern death metal / hardcore metal project.
I could say that our music is a mix of violent, speed riffs and melodics parts. I think we propose a music which could remain bands like Whitechapel, Chimaira, In Flames! We have no limit when we compose, we just play music we like, so the best is to listen our music to do your own idea.
Summon: How has the fan response been?
Dimitri: The fans seemed to hang our music and tell us that the different influences that they find in our music created a rich mixture and the riffs were effective, melodic parts also liked a lot to some of the fans. I think the concept around Meso American mythologies brings some originality too.  We have too some good reviews, especially by South American webzines and fanzines because of our concept about Meso American mythologies and we are very proud of this.
Summon: Where did the band name come from?
Dimitri: Logically, "CHABTAN" comes from Meso American mythologies. In reality, it is part of the name of the Mayan god of the violent death: BULUC CHABTAN!!!
Summon: Introduce the band members and what they do in the band.
Dimitri: Cris is the singer and he is 24 years old. Yanis is the drummer and he's 24 years old too.  Laurent, the bassist, is the old men of the band 😉 he's 36 years old. Jean-Philippe, the guitarist is 32 years old. And I, Dimitri, the guitarist too, am 33 years old.
Summon: Who writes the music? Lyrics?
Dimitri: Well, music is composed by Jean-Philippe and me, the two guitarists. We have found a good balance, he bring the violence and fast riffs and me, the melodic side of our music. Jean-Philippe writes all lyrics.
Summon: And where do the lyric ideas come from?
Dimitri: Our words are derived from many Meso American stories. Particularly from the Popol Vuh, which is a sort of Mayan bible that lists all the violent and bloody legends of these cultures. Our words can therefore speak of war, revenge, sacrifices, of their gods all in connection with the death. We still have many stories to tell about them;)
Summon: What is your view in Satanism and Occultism?
Cris: I don't consider occultism and satanism as religions but as aesthetics. Considered this way, I think they are quite interesting. Remove the occultism from many bands then they will lose some of their interest. 
Summon: How many albums/CD's have you released?
Dimitri: We have realized an EP in 2012, named "Eleven". You can download it for free on our website www.chabtan.com
Summon: Tell me about some the songs on the latest CD?
Dimitri: Our first EP has been recorded at home, in our home studio. We entrusted mix and mastering to Andrew Guillotin, a french sound ingeneer specialized on metal music who had work with metal bands in our style like THE ARRS, AS THEY BURN, THE BRIDAL PROCESSION. The songs of this first EP speak about Meso American mythologies, sacrifice, revenge, war topics are very present in these cultures. We are pleased and proud of these first 6 songs.
Summon: Do you have any side projects?
Dimitri: I just have CHABTAN and this is already a lot of work!!!
But some of CHABTAN's musicians have side projects like our bassist Laurent who play in ORDER OF 315 or Cris, the singer who is currently working on a progressive black/death metal band, which will release two songs next month. The band is called GARGANTUA, referring to the french writer from the XVIth century.
Summon: Who are some of your musical influences?
Dimitri: Our influences are several, death, heavy, hardcore music. We don't want to be put in one category, so we compose without asking questions or get limit. We just want to bring a good balance between violence, speed and melody.
Summon: Which current bands?
Dimitri/Cris: Mainly, bands who influence our sound are Slipknot, Arch Enemy, Chimaira, In Flames, Whitechapel, Job for a cowboy, Sepultura, All shall perish! And more of course…
Summon: What is the band like when you play live?
Dimitri/Cris: We hope to keep the image of an energetic and modern death metal band.   We think we are very communicative and that's why people enjoy the show. Come and see us, then tell us how we are like!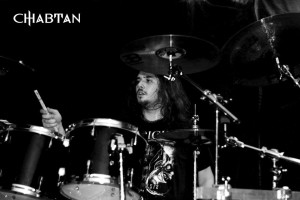 Summon: Have you guys ever played in another country?
Dimitri: In fact we will do our first concerts abroad in February as we open for IMMOLATION on their "Conspiracy European Tour 2014"! We will play in Holland and Belgium among others. All dates on our facebook!
Summon: How big of crowd shows up at shows usually?
Dimitri: I can best answer this question after this tour! 😉
Summon: How is the crowd response when you play?
Dimitri: The public often congratulate us on the energy we send on stage, it is a priority for us to also give everything to the public!
Summon: What do you think of the US Black Metal/Death Metal scene?
Cris: In the old school of death metal, I love Hate Eternal but America has currently some nice bands. THY ART IS MURDER, CARNIFEX, BROKEN HOPE, REVOCATION (okay this one is more thrash), JOB FOR A COWBOY.
Summon: What do you think of the Overseas scenes?
Dimitri: It offers a multitude of great bands, both former groups as new. They affect us much and musicians are increasingly good technically.
Summon: What are some of new favorite black metal/death metal bands?
Cris: I recently felt in love with BROKEN HOPE. In fact I don't really listen to new bands. Do you consider EXTOL as a new band? I discovered them a few months ago, after their long break and even if it's an old band, I think that we can say that they are a new EXTOL and this band has probably released the greatest album of 2013. 
Summon: When do you guys plan on writing any new material?
Dimitri: Actually, we are working on our next album. We will record it in April and if all goes well, this album should be ready at the end of this year 2014!
Summon: What does the future hold for the band??
Dimitri: We hope a lot of touring around the world and meeting our public.
Contact them at:
https://www.facebook.com/officialchabtan
http://www.reverbnation.com/chabtan
http://www.youtube.com/chabtan1