Catarrhal
Fleshgrave
10 Track Album
Plus 5 bonus tracks
Great Dane Records
Released 30th April 2013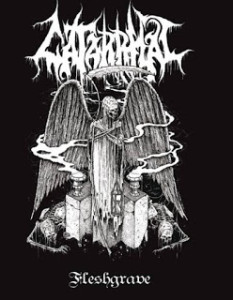 Catarrhal – Huy – Liège
Links:
https://www.facebook.com/catarrhal
Genre: Death Metal
Possession
This track literally lulls you into a false sense of security as it builds up to its grand opening.
Funeral Larva
The second track shows no messing about and goes straight in for the kill, with some really 'in your face' vocals – that are so forthright they hit the gut when listening. The powerful music rips through the speakers as if it is showing you the middle finger!
Impious Fog
With some thunderous beats the drums launch into their tirade of utter outstanding energy, while the riffs protrude and bulge with high octane fuelled aggression. The vocal depths are way beyond deep and stir up some powerful emotions.
Fleshgate
Offering a more melodic phrase this track has an entrancing effect and sooner than later it once more hits the impressive elements that send the blood coursing through the veins.
Dressed in Blood and Puke
A very familiar title for a death metal track – it goes with the territory. Pummelling beats are potent and quickly followed by some angry lyrics that hit so low they leave a rumbling in the stomach and paralyze the ears.
Disinter
Catarrhal, I feel are a band that know no limits and keep on biting at the bit and this track is no different. It surges ahead with predatory riffs and catchy blast beats. The sonic frequencies are just phenomenal as the energy is simply catapulted through the speakers along with a strong vocal extract of extra viciousness!
Morbid Exhalation
The titles that death metal bands come up with have always fascinated me – call it morbid curiosity lol! The brutal onslaught has already reached fever pitch as they slam out riffs to literally die for in true death metal fashion.
Into the arms of light
The next track possesses a keen heaviness that resonates fiercely. Spawned with utter hate its attention seeking encounter is monstrous and simmers with equal ferocity.
Crimson Rapture
Still no let up, Catarrhal really know how to keep one entertained. The intensity increases and notches up a vehement rousing that antagonises the ears and vigorously shakes the senses with sheer and utter exuberance. The melodic slabs of rhythms are exciting and great head banging moments can be had with this track!
Outrenoir
The end has been reached and as a finale the band have plumbed for a sinister and inflamed passage that ignites further on. From catchy heavy rhythms to totally deranged vocals it leads the way for a thoroughly orgasmic encounter.
Bonus Tracks
Of Heads and Catapults
Again a good solid title for an equally solid track that scours the dark depravity of the mind. It savagely executes its wild side and seeks revenge on the ears make no mistake!
Vomited Souls
The jagged rhythms cut like a new carving knife and are carnivorously raw and unyielding. It smacks a punch that nobody could recover from. Vocally engaging with its heavy tones and rippling rhythms it is feisty enough to kill.
Dreams of Gatling Carnage
With a gargle blasting vocal to open the track, you know immediately what you are in for and Catarrhal deliver the goods with distinct sound velocity and major imagination. Virulence inducing, lip-smacking awesomeness! This is one track you won't want to bypass.
Stitched Lips and Brutal Sodomy
What strange images are pushed into the mind when reading the title of this one! It is again brutal with plenty of savage intentions offering a truly mesmeric undercurrent that surges with every rousing riff. It stirs emotions far and wide.
Necroleader
Let the brutality commence – enveloping the ears as well as the sound barrier, maybe I should turn it down a notch? The closing track to this magnificent CD and already I am hungry for more.
Summary
This is one superb CD that not only engages but is thoroughly addictive and offers melodic traits of catchiness as well as a brutal overload of anger and emotive force.
The grouchy vocals are scathing and show no signs of weakness as they explore their tracks with quite simply a cauldron of molten metal. It engages on all levels of ravaging the senses and pummels its way through 15 hard core tracks that are persistently infectious.
Although some of the tracks sound similar in delivery, the production is strong and arouse with thrilling imagination.
10 tracks plus is just the ticket, that will leave you hungry for more, providing you like your metal extreme!
All hail Catarrhal!!
9.5/10
Track List:
Possession
Funeral Larva
Impious Fog
Fleshgate
Dressed in Blood and Puke
Disinter
Morbid Exhalation
Into the arms of light
Crimson Rapture
Outrenoir
Bonus Tracks from:
Beyond Onirism demo
Of Heads and Catapults
Vomited Souls
Dreams of Gatling Carnage
Stitched Lips and Brutal Sodomy
Necroleader
Members:
Stefan – Guitar
Xavier – Guitar
Rebhell – Drums
Romain – Bass
Serge – Vocals