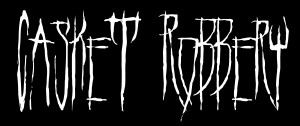 Heavy metal evokes deep emotions from elation to introspection to revulsion. Casket Robbery runs the gamut all the while burrowing its titanic sound deep into your psyche. The songs are pulverizing and catchy. The imagery is unique and their live performances invoke a primordial effigy others can only hope to achieve.
Pulse pounding, unrelenting, heavy, and brutally catchy
If you dont find yourself moving to this you should at least feel dirty for listening.  The undeniable grooves and hooks coupled with conceptual lyrics make Casket Robbery the next level force of death metal brutality.  Take a deep breath.  Your unrelenting nightmare has just begun. 
For fans of Jungle Rot, Gojira, and Pantera
Casket Robbery is an up and coming death metal band created by the minds of Cory Scheider (Luna Mortis, Epicurean, Echoterra)  and Dustin Foesch.  They have firmly established themselves as a brutal, heavy hitter in the live show realm by hitting the road hard after their first short EP release.  Last year they took the time to re-evaluate and plan  a devastating debut album release for 2016.  They quickly brought in Patrick Small on bass, and Greg Mueller to fill the drum spot. They brought on their own Cory Scheider to track, engineer, and produce a majority of Evolution of Evil.  The track "Pray for Death" features a solo from John Laux (Warbringer) and "Undead Living Hell" features a guest speaking role by horror filmaker Cory Udler.  With  the help of Chris Wisco (Novembers Doom, Jungle Rot)  to mix the album and Cody Ratley (Villains, Darke Complex) to master it, this will truly be a must have album for 2016.