Summon: How did the band get started?
Cadaveria: The band was formed in 2001 by me and Marçelo Santos, aka Flegias. In more than ten years of activity we released four albums and played in many venues in Europe and Central America. Our latest album 'Horror Metal' is out now on Bakerteam Records, so we are here again, with an enriched line-up, stronger than ever and ready to kill.
Summon: What kind of music do you play?
Killer Bob: We play and indefinite mix of black, death and thrash metal. During the years reviewers defined our albums in different ways: Black Metal, Alternative Metal, Gothic Metal, Avantgarde Metal… and even Horror Metal of course. That's because each album is different from the others, and also the tracks of each album are variegated.

Summon: How has the fan response been?
Killer Bob: Since the beginning our fans appreciated our music and they still support us. Due to the variety of our style, some fan appreciate most some albums, some other fan likes most other albums. Last album "Horror Metal" has been acclaimed from all our fans as our best album, like it was a resume of what we did during our career.

Summon: Where did the band name come from?
Cadaveria: I gave my name to the band when I founded it. This name deals with my love for all what is dark and connected to the cemeteries stuff.
Summon: Introduce the band members and what they do in the band.
Cadaveria: Cadaveria – Vocals, Frank Booth – Guitar, Dick Laurent – Guitar, Killer Bob – Bass, Marçelo Santos – Drums. Dick Laurent is the latest entry.

Summon: Who writes the music? Lyrics?
Cadaveria: I'm the unique responsible of lyrics writing while the music is composed mainly by the two guitar players.

Summon: And where do the lyric ideas come from?
Cadaveria: I continually write about sensations, thoughts, happenings, about dreams and nightmares and about all what gives me any suggestion or inspiration. It is a never-ending process, like to have a sort of diary. When we feel it is time to approach the composition of a new album I reorganize these notes and I create the songs lyrics.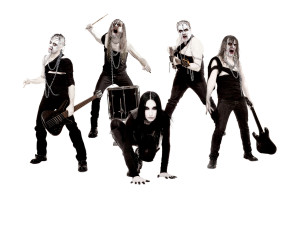 Summon: What is your view in Satanism and Occultism?
Cadaveria: I don't believe in any religion besides my own one. I think any collective and imposed-by-others religion is a limitation of our own freedom and a placebo medicine for human fears.

Summon: How many albums/CD's have you released?
Killer Bob: We made our debut in 2002 with "The Shadows' Madame", then came "Far Away From Conformity" in 2004, "In Your Blood" in 2007 and then our last effort: "Horror Metal", released on January 31st, 2012.  C: Apart these we released also a VHS video, one album reprint special edition and one single.
Summon: Tell me about some the songs on the latest CD?
Cadaveria: Well lyrically speaking Apocalypse is clearly inspired to Mel Gibson's movie Apocalypto, while Death Vision and Requiem are testimonies of the dark vortex where I sometimes sink myself. Musically the eleven new tracks featured in Horror Metal are different from each other. We cross from Black Metal to Gothic, so songs like Assassin and The Night's Theatre are fast and heavy and More Death Metal, while The Days of the After and Behind is old school Black Metal with Black Sabbath influences. On the other hand a track like Flowers in Fire touches different contaminations and its flavor is more introspective. The atmospheres you can find in Horror Metal are surely very obscure, but sometimes enlightened by flashes.

Summon: Do you have any side projects?
Killer Bob: Our drummer Marçelo Santos is the singer of the old-school thrash metal band Necrodeath, by the name of Flegias. Cadaveria and I are also involved in the industrial metal project DyNAbyte.

Summon: Who are some of your musical influences?
Killer Bob: Each one of us has different influences, that's why our music sounds so unique. As far as I'm concerned, I like the early heavy metal bands from the late '70, and my favourite ones are Motorhead.

Summon: Which current bands?
Killer Bob: I've been impressed by the album "Opus Eponymous" of the Swedish band Ghost. I saw them at Hellfest Festival in 2011 and I was positively surprised.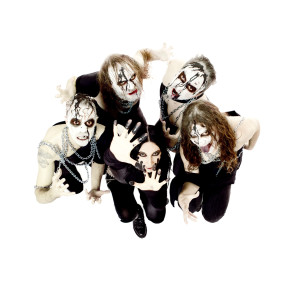 Summon: What is the band like when you play live?
Cadaveria: We have a simple scenography like many underground bands but in our live shows you can breathe the same occult atmosphere you feel while listening to our albums.
Summon: Have you guys ever played in another country?
Killer Bob: We toured in France, Spain, Romania, England, Mexico and Italy.

Summon: How big of crowd shows up at shows usually?
Killer Bob: It depends on the place we are going to play. Our biggest fan-base is in Mexico. I don't know exactly how many would attend a show, but I guess like 1.000.

Summon: How is the crowd response when you play?
Killer Bob: Even that depends on the country we are going to play. Usually Latin people are more crazy than, for example, north-European. But that doesn't mean that they don't like the concerts, they just have a different way to show their appreciation.

Summon: What do you think of the US Black Metal/Death Metal scene?
Cadaveria: I cannot speak about a scene in general, I mean not all bands or people from the same country are the same.
Summon: What do you think of the Overseas scenes?
Killer Bob: Sincerely, our experience with the Overseas scenes are still too poor to have an opinion about it. Anyway, I see that the majority of bands playing in European summer festival are from the USA, and that says it all.

Summon: What are some of new favorite black metal/death metal bands?
Killer Bob: Recently I've been impressed by Behemoth from Poland. They are one of the band I'm currently listening to.

Summon: When do you guys plan on writing any new material?
Killer Bob: Just few days ago I received an e-mail from Dick Laurent with some new riff… I suspect we've just begun!

Summon: What does the future hold for the band??
Cadaveria: Since Horror Metal is a great album we want to promote it in the proper way, so we will play live as much as possible. We will also release a video clip soon.
Contact them at:
http://www.facebook.com/cadaveria
http://www.myspace.com/cadaveriaband
http://www.reverbnation.com/cadaveria