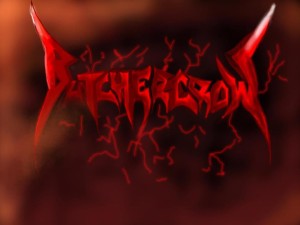 Summon: What kind of music do you play?
Nobert: We play a mix of Thrash and Death Metal, influenced by the old school bands who play this kind of Metal.
Summon: How has the fan response been?
Nobert: There is a lot of people who like our music and it's rewarding, but we're trying to get always more. We're not satisfied yet, there is a long way to run.
Summon: Where did the band name come from?
Nobert: We were searching for a name that sound aggressive and original. So after thinking about a lot of names, me and Rafael (Chamos, guitarist) had the idea of mixing two words. I've suggested 'butcher', and Rafael, 'crow'. So we mixed this words.
Summon: Introduce the band members and what they do in the band.
Nobert: Norbert Liberator (me) lead vocals; Rafael Chamos: guitars; Osmar Hanz: guitars; Thom Ronald: bass; Sabão: drums.
Summon: Who writes the music? Lyrics?
Nobert: I use to write the lyrics, all alone or with Rafael. The songs are made by him and Osmar.
Summon: And where do the lyric ideas come from?
Nobert: Some lyrics talk about reality (politics, history), analogy between reality and fiction, and there others, about occultism.
Summon: What is your view in Satanism and Occultism?
Nobert: I think it's cool and valid as art and as a protest against some segments of society. But it has never been an ideological flag for me. That's just art.
Summon: How many albums/CD's have you released?
Nobert: We have a demo released in 2010 and a single in this year. We're recording songs to do the full-length.
Summon: Tell me about some the songs on the latest CD?
Nobert: Currently we've recorded just one track, called 'U.S.O. (United States of Oceania)'. The song calls about US government and its influence around the world, making an analogy between this and Orwell's '1984'.
Summon: Do you have any side projects?
Nobert: No, the only band member who has other project is Sabão, but I don't know its name, haha.
Summon: Who are some of your musical influences?
Nobert: Our music is mainly influenced by bands like Sepultura, Death, Kreator (in the old phases) and Master. But there are a lot of influences, from NWOBHM to Death Metal.
Summon: Which current bands?
Nobert: There are some bands like Cauldron, Bastard Priest, Maim. Our drummer Sabão has a great influence of Torture Squad and I use some current vocalists, like Vitor Rodrigues and Johan Hegg, as inspirations on stage.
Summon: What is the band like when you play live?
Nobert: The people use to compare us with Napalm Death, Sepultura. I don't like comparisons.
Summon: Have you guys ever played in another country?
Nobert: Not yet, but we're searching for it someday.
Summon: How big of crowd shows up at shows usually?
Nobert: There is not a great public where we live, but too many people use to see us. There are dozens of bangers at shows.
Summon: How is the crowd response when you play?
Nobert: The people use to bang and do mosh pits. The Latin American people use to have a lot of energy.
Summon: What do you think of the US Black Metal/Death Metal scene?
Nobert: There are too good bands. I like a lot of bands from US, mainly old school Death Metal bands.
Summon: What do you think of the Overseas scenes?
Nobert: I'm a part of this, haha. I think there is too many great bands. My country (Brazil) is a potency on extreme music. Europe has a large and respected scene, and Metal music has grown around the world. I was listening to African bands one day, v.g.
Summon: What are some of new favorite black metal/death metal bands?
Nobert: Torture Squad, Bastard Priest, Maim, Power From Hell.
Summon: When do you guys plan on writing any new material?
Nobert: We shall release the first album in this year.
Summon: What does the future hold for the band??
Nobert: I don't know, but I hope good vibrations. We're fighting for our place.
Contact them at:
http://www.youtube.com/watch?v=uQPp-KLj3LE
http://facebook.com/butchercrow