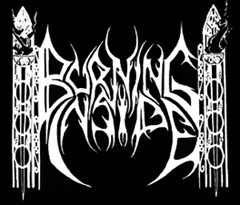 Summon: How did the band get started? How did you meet and how long have you been together?
Steve: Burning Inside was formed when me (Steve Childers) and drummer (Richard Christay) left the band "Public Assassin" in 95. We hooked up with Jamie Primm and Mike Estes from other bands and formed Burning Inside. Ive played with Rich for 5 years.
Summon: How would you describe your music?
Steve: Technical Black/Death Metal.
Summon: What are your biggest musical influences?
Steve: Mine personally are Mercyful Fate, Infernal Majesty, Riot, Black Sabbath, Iron Maiden, Judas Priest etc… I also like a lot of the Black Metal bands out now new and old. Bathory, Emperor, Satyricon, Darkthrone, Mayhem, Bewitched, Marduk, Surgephogus and many more. I could list them forever. I eat, sleep and shit Metal.
Summon: Who if, if any do you consider the bands idols?
Steve: Mercyful Fate, King Diamond. Mike likes Yngwie Malsteem tremendously as so do I. The same as above, I could keep listing and listing.
Summon: What made you want to be in the band? And if you weren't in the band what would you want to be doing now?
Steve: My neighbor. Who cares!
Summon: What are some of your favorite bands that are really popular today?
Steve: See number three I also like Jazz and classical.
Summon: How many demos/albums do you have? Tell me about them.
Steve: Four tapes and one CD with Public Assassin. One Demo and one CD with Burning Inside.
Summon: If you could play with any band who would it be and why?
Steve: Any of the legends listed above in three.
Summon: Who writes the majority of the music?
Steve: We all contribute.
Summon: Who has been the favorite band you've played with? Why?
Steve: Cross between Malevolent Creation or Samel. All the bands we've played with we're cool.
Summon: Where did you get the band name from?
Steve: Ministry song titled and also Mercyful Fate lyrics "Egypt".
Summon: Describe what the band is like live?
Steve: Tight and fast as fuck!
Summon: If you are gonna do any kind of video what would be in it?
Steve: Blood, fire, thunderstorm, a goat, evil shit.
Summon: Are there any tour plans made, if so tell me about them?
Steve: We do shows in Florida but we're wanting to go on a US tour and we'd love to go to Europe!
Summon: Where do you think the band will be in 20 years from now?
Steve: Jamming with Skip Skiffington.
Contact them at:
Burning Inside
101 E. Altamonte Dr. #1232
Altamonte Springs, FL 32701