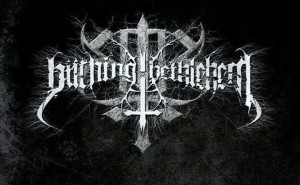 Summon: How did the band get started?
Skorm: We knew each other for years prior to playing music together. We shared the same musical Influences and a particular interest in finding the most extreme music out there which ended up as us creating our own.
Summon: What kind of music do you play?
Skorm: Black/Death Metal.
Summon: How has the fan response been?
Skorm: Very well, especially during our live performance's.
Summon: Where did the band name come from?
Skorm: Burning Bethlehem is just a Rebellion against any God, Religion or Establishment. 
Summon: Introduce the band members and what they do in the band.
Skorm: Vocals, Bass
Nokturn: Guitars
Sethazu: Percussion
Summon: Who writes the music? Lyrics?
Skorm: Both the Music and Lyrics have always been written between Nokturn and Skorm together.
Summon: And where do the lyric ideas come from?
Skorm: Our interest in Death, the Occult, and Horror Films.
Summon: What is your view in Satanism and Occultism?
Skorm: We enjoy writing about such topics strictly because it interests us. However we do not believe nor practice these subjects.
Summon: How many albums/CD's have you released?
Skorm: Currently 1 Album (The Unholy Path to Hell) and a Demo although we will be in the studio next month recording our next Album "Black Ritual".
Summon: Tell me about some the songs on the latest CD?
Skorm: The Unholy Path to Hell has a story behind every song. For instance "Into the Satanic Void" Is about the experience of falling to hell not only at the moment of death, but falling to Hell in the equivalence of a thousand human years and seeing what our version of Hell consists of. Basically to sum up the whole album, "The Unholy Path to Hell" is just the first Haunting Chapter of Burning Bethlehem with (Which will be) our most raw album full of evil and hatred.
Summon: Do you have any side projects?
Skorm: Olvar is both Nokturn and Skorm's other band which is strictly instrumental. Olvar's first album will be released this February 2015. 
Summon: Who are some of your musical influences?
Skorm: Burzum, Bathory, Black Sabbath, Darkthrone, Immortal.
Summon: Which current bands?
Skorm: Tsjuder, Krypt.
Summon: What is the band like when you play live?
Skorm: An unrelenting force of darkness.
Summon: Have you guys ever played in another country?
Skorm: Not yet.
Summon: How big of crowd shows up at shows usually?
Skorm: We play a lot of underground shows so the size of the crowd varies quite a bit.
Summon: How is the crowd response when you play?
Skorm: After the first song, everyone gets into us and migrates towards the stage followed by an amazing response at the end of every song.
Summon: What do you think of the US Black Metal/Death Metal scene?
Skorm: We support them.
Summon: What do you think of the Overseas scenes?
Skorm: Our favorites are the Norwegian and Swedish.
Summon: When do you guys plan on writing any new material?
Skorm: We will be in the studio next month recording our next album "Black Ritual" which will be available sometime in 2015. Also we have already written the following album as well.
Summon: What does the future hold for the band??
Skorm: Hopefully many more Albums to come and to keep receiving the positive feedback from our current fanbase and new fans to come.
Contact them at:
https://www.facebook.com/burningbethlehem1
http://burningbethlehem1990.bandcamp.com