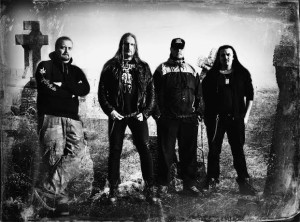 Summon: How did the band get started?
Andreas: We started playing in 2004 when my Black / Death metal band was put on hold by the name Hellavator 1998-2004.
Summon: What kind of music do you play?
Andreas: Thrash / death metal.
Summon: How has the fan response been?
Andreas: Hmm it was both easy and difficult but I never thought that we would be able to reach the wide audience it has not been the goal it had obviously been fun but it 's not why you do this for 20 years, to do it in order to be to breathe, to do it for not going to jail and you do it for the Community in metal.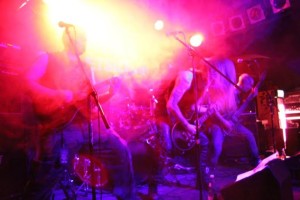 Summon: Where did the band name come from?
Andreas: The band name comes from a Gothenburg band disc.
Summon: Introduce the band members and what they do in the band.
Andreas Persson: Vocals + Guitar
Kjelleberg: Guitar + Vocals
David Nexeús: Bass
Erik Magnusson: Drums
Summon: Who writes the music? Lyrics?
Andreas: It's been mostly me who have written (Andreas), both lyrics and music but now in recent years has also Kjell written a lot, I try to get everyone in the band to get involved, we'll see if there will be another album then I hope that everyone is involved in writing.
Summon: And where do the lyric ideas come from?
Andreas: Everything from genocide, murder, mass murderer, politics, relationship between people, Biblical tales, war criminal, my own life what it was like to grow up in an unstable environment, youth problems with drugs and crime.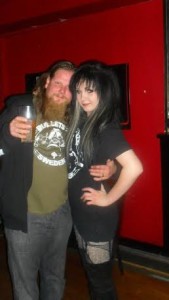 Summon: What is your view in Satanism and the occult?
Andreas: I have in my adult life always supported Satanism, I think that is the only true way it has of course slowed down over the years, or rather changed as I've gotten older matured if you like.  Occult interests me as it tells our story and anywhere where we live when all places have old fornordiska name, I believe it is important to learn the history.
Contact them at:
https://www.facebook.com/bulletsize
*all songs are available on Itunes and Spotify*