Bullet-Proof
De-Generation
9 Track Album
Sleaszy Rider Records
Released 13th July 2015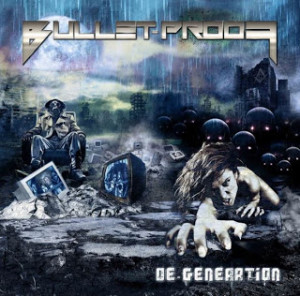 Bullet-Proof – Bolzano, Italy
Links:
https://www.facebook.com/BulletProof
Genre: Heavy Thrash Metal
Instrum – For fans who love some crisp and refined riffs look no further, as Bullet-Proof wield their axes like true pros! Their notes are so fast it beggars belief that something could be played so precisely without mistake, but it is there for all to hear and in glorious thrashing form.
The Cage – The chords here sound very similar to a band who made their mark in the 80's under the name of Blizzard of Ozz! Those catchy riffs from 'I don't know' had heads banging far and wide in yesteryear, although Bullet-Proof have slapped their own take on the track and created a familiar monster with unfamiliar lyrics and tremendous solos.
Deceive – Sounds like it wants to get going but is being held back before the elastic snaps and a rampage ensues! It's a vibrant sweeping track that holds some great hooks and tempestuous rhythmic outpourings, although the squeaks over the strings are somewhat annoying, but thankfully they don't last long and soon you are wrapped up in this volatile encounter.
Chemtrails – Perpetually engages with its rack of riffs that are destined to ravage and destroy! The stabbing mesmeric rhythm protrudes with skilful endeavour. Eagerly punching and yet embracing it delivers with a smack to the senses.
You (Heroine) – Some awesome bass hooks here remind me of Samson in their early days, but that is where the familiarity leaves and Bullet-Proof again steal the show with intense aggression that is fuelled with an 80's feel.
Again – Could be likened to Thin Lizzy if you listen hard enough at the beginning before leading us off and into the world of Bullet-Proof, back to the thrash feel with a hard edged vocal onslaught and a mad rush of thunderous drumming.
No Common Chords – This is cloaked in some superb intense creativity and gives us a glimpse into another world. The riffs are still vibrant and the thrashing euphoria still present, however, the vocal arrangement has changed allowing the listener to experience another direction to the band.
She Devil – Back to their comfort zone with sound solid kick beats and a sharper vocal offering. The track literally transports itself into a frenzied and robust energy that is thoroughly enjoyable and easy to immerse yourself into.
De Generation – The title track of the album gives way to a brutal stabbing of rhythms that will leave you for dead! It shows a dynamic build-up of catchiness that is hard to ignore, but then again you wouldn't want to as this is a real festivity of galloping rhythms thrash style with brilliant guitar solos and later holding a very sophisticated ending.
Summary
This album is a real pleasurable head banging journey that excites its way through the ears! Bullet- Proof are one of those bands that make me wish I had learned guitar so I could copy the immense solos alone!
It feeds the imagination with a blast from the past incorporating strong influences even if maybe the band didn't mean to tread those waters, there is no dodging the bullets, but after listening to this album I doubt anyone would want to!
It is a true grit album for thrashing metal heads. Fans who like their metal with bounce and played extremely fast should definitely give this album a listen in order to feel the force that Bullet-Proof have provided.
And as they say in Italy "Grazie ragazzi!"
9/10
Track List:
Instrum
The Cage
Deceive
Chemtrails
You (Heroine)
Again
No Common Chords
She Devil
De Generation
Members:
RICHARD HUPKA – Guitars and Vocal
MAX PINKLE – Guitar
FEDERICO FONTANARI – Bass
LUKAS HUPKA – Drums