Bukowski Family
"Unpleasantries Abundant"
2013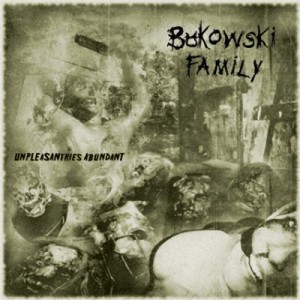 Visionary and unapologetic are two words that come to mind when trying to describe Bukowski Family. We supposedly live in what academics call a Post Modern era. Where all the forms of human expression have been done and all new art are just hybrids of things already done. Whoop de do. All the greatness of Death Metal past, Texas Chainsaw Massacre and House of 1000 Corpses have culminated in wicked blend of savagery you can listen to over and over. Music is going further into brutal and more hardcore directions. Sometimes I throw Slayer in or Cannibal and it feels a little light compared to what is out there now. If brutal, sick music is your thing you can not go wrong with Bukowski Family. Like Initiation every song is strong and some of the lighter moments sound like horror movie soundtrack score. I will be listening to Bukowski Family over and over, I think you should too.
Tracklist:
1. Chair of Repentance
2. Carne Humana
3. Fountain of Woe
4. The Perversion of the Grim Tanner
5. 6Teen
https://www.facebook.com/bukowskifamily
Members:
Frank Bukowski – Bass
Wiktor Bukowski – Drums
Roman Bukowski – Guitars
"Mimi" Bukowski – Guitars
Piggy Bukowski – Vocals
Fats Bukowski – Vocals/Guitars
Rating: 10 out of 10
~Alaric Hannibal Barca
Bukowski Family
"Initiation"
2012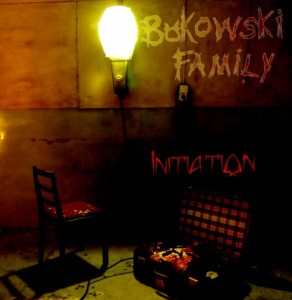 Do you remember the first time you fell in love? Well this is better than that. Imagine Cannibal Corpse and Slipknot had a bad ass brood of bastard children that thought their parents were total pussies and wanted to 10 up them. I sort of feel like words fall short to describe this EP. These guys are sick, depraved and bent on total brutality. I love the vocals, low, high they are addicting. The guitar tones perfect. .According to their website Piggy sleeps in excrement and guts. I totally want to champion this band and spread the gospel. Every song on Initiation is strong, all tracks stand out and are strong.
Tracklist:
1. Initiation
2. Feces of Love
3. The Tenderizer
4. Flayed Skin Trapestry
5. Discipline of the Flesh Sculptor
6. Uncle's Tinder
https://www.facebook.com/bukowskifamily
Members:
Frank Bukowski – Bass
Wiktor Bukowski – Drums
Roman Bukowski – Guitars
"Mimi" Bukowski – Guitars
Piggy Bukowski – Vocals
Fats Bukowski – Vocals/Guitars
Rating: 10 out of 10
~Alaric Hannibal Barca