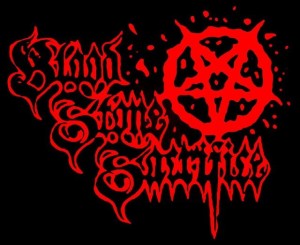 Band name : BLOOD STONE SACRIFICE ( www.myspace.com/spidergates666 )
Member : Only myself (Jesse) although I prefer not to use any name…I decided I did not want to name myself something "evil", or make up some fatastical name for myself.(I also do not and will not use corpse-paint)
Age: Old as fuck, 36
Instruments: Guitars/Keyboards(I use a keyboard rather than a bass)/Drum machine programing/Vocals.
Began working on material in 2007 for this project.
Was in my first band in 1988-89 (Autopsy) was a very punk-rock inspired metal band. (I had bought my first Bass guitar 2 weeks prior.) I grew up listening to Sabbath/Aerosmith/KISS/Beatles/The Who as a child, but was introduced to metal at about age 14 (Ozzy/Motley Crue, etc. But was REALLY into the american hardcore scene that was going on at the time(Black Flag/Circle Jerks/D.R.I./7Seconds/Necros/Misfits, etc.) That's where I became involved in tape-trading…From there the Speed/Thrash metal scene really exploded, and I was just loving all of it…
I was in and out of a few bands playing bass, and singing. In 1990 I was in one of (if not the first) Death Metal bands in this area (SUFFERAGE). It was a satanic death metal band. I have always been very obsessed with the occult, satanism, nihilism, anarchy, and this was probably at the height of my satanic/suicidal/nihilistic behavors. We cut a demo, and unfortunately only held together for a year before my drummer was murdered in 1991 (The song "Casting Shadows" was written for him) This was also the period when I really began searching out Black Metal bands.
A couple years later I was again in a band that was the most successful out of any of the previous called ENGORGED (This was before the Engorged most people know of) www.myspace.com/engorged1993  This was also a satanic death metal band. We also cut a demo, played a lot of shows, etc. The band broke up after a decent run, due to wanting to explore different musical directions.
After that band I did some jamming here and there, but nothing serious, I played anything I could get ahold of, guitar, drums, bass, just anything that made noise really. I have always had music in my blood…However I no longer had the patience for a full band. I knew I needed to have total control over my music..
After a fairly long period of what I will only describe as total self-abuse, I got back to what I knew I needed to do…which is what I am doing now.