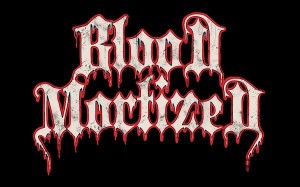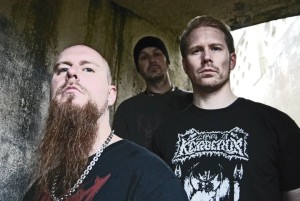 Summon: How did the band get started?
Anders: BLOOD MORTIZED was founded by 2 of my friends Mattias Parkkila and Benny Moberg back in 2007. I joined in later that year , It was like a hobby project at the beginning, but after we got a record deal it started to get more serious. Later Mattias Borgh came in as the drummer. After a few years Benny left the band , some personal stuff was the issue. Now we have got a new guitarist named Gustav Myrin and a base player named Mattias Söderlund.
Summon: What kind of music do you play?
Anders: We play Swedish Old School Death metal whit a new touch.  We are trying to get our own thing in to the old school sound and I think we have done that, I hate when people compare us with Entombed.  It's an insult to me, okay we have some riffs that sounds like other Swedish bands
but not Entombed, its like a band they take out of the blue because they're one of the most known Swedish bands. Take the Bestial EP for example
1.Bestial : have an own style with a little Unleashed
2.Of Dust and Doom : own style, never been done in Swedish Death metal
3.Shadows of the Quarter Sun : own style with Dismember influence
4.Rekviem : a Celtic Frost – Bolt Thrower style
As I said we are trying to do the Old School thing with a big touch of Blood Mortized.  hahahahahahaha!
Summon: How has the fan response been? ¨
Anders: The fans has responded good to this ,if they had not, I would not be standing here.  It's the thing , if you get a lot of good response you'll get driven to do good music!  If you get no response you can put your instruments on the shelf.
Summon: Where did the band name come from?
Anders: Don't know where it came from , think it was Benny that came up whit the name.  And I think it doesn't mean nothing , but it stands for Brutal Swedish Death Metal.
Summon: Introduce the band members and what they do in the band.
Anders: Okay we have Mattias Parkkila: Vocals Me: Anders Biazzi: Guitar Gustav Myrin: Guitar Mattias Söderlund: Bass Mattias Borgh: Drums.
Summon: Who writes the music? Lyrics?
Anders: So far I have written most of the music , Gustav and Borgh have done a little Gustav has just joined the band so he has not been able to do much But he's coming around . Borgh has helped me arranges some of the songs.  When it comes to the lyrics Parkkila and Borgh have written all.
Summon: And where do the lyric ideas come from?
Anders: Death , Destruction , fall of mankind , Evil shit so to speak.  hahahahaha.
Summon: What is your view in Satanism and Occultism?
Anders: Not much hahahahahaha.
Summon: How many albums/CD's have you released?
Anders: We have released 2 Albums and 1 Cassette, Our self title debuted Blood Mortized! And our cursed EP entitle : Bestial , that took us 1,5 year to get out on CD!! We got it out on Cassette first then 1 year later or more it came out on CD! and its coming out soon on Vinyl also, Our second full length album is coming out in the beginning 2012 It's in mixing and mastering process.
Summon: Tell me about some the songs on the latest CD?
Anders: Okay we have Bestial: a kind of mid tempo song with some heavy riffing and Unleashed inspired riffs Of Dust and Doom : this song got to be a bonus track for the CD it didn't get on the Cassette. Its more like an experimental song, a really heavy song in the veins of Hellhammer and Celtic Frost , this is the Heaviest song we done up to date Shadow Of The Quarter Sun: is a more faster song with some Dismember influence riffing and a creepy solo hahaha. Rekviem: it's a really heavy song in the veins of Celtic frost and a lot of Bolt Thrower! With a really cool ending , this song, me and Borgh have written together.
Summon: Do you have any side projects?
Anders: I have no side projects at the time but the others have Parkkila has Malfeitor a project that Benny Moberg and Parkkila stared in the 90s. Its now reborn and they are putting out a Album 2012 Borgh has Arcana a kind of musical phenomena , its like a Goth orchestra Gustav have some Rock acts Söderlund plays in one of Sweden's most famous Punk rock bands named Charta 77.
Summon: Who are some of your musical influences?
Anders: Some Swedish old School bands NOT Entombed! Bolt Thrower , Celtic Frost and our own Style.
Summon: What is the band like when you play live?
Anders: We haven't played live yet , but we are rehearsing now for 2 upcoming shows in Germany. That's going to be cool as hell , I haven't play live in 15 years sins I left Amon Amarth! So this going to be really fun to do with the guys!
Summon: Do you have any type of stage props or special clothing?
Anders: No we are just hitting the stage our self , the only props are our instruments! We are gonna play like we dress in real life.
Summon: Have you guys ever played in another country?
Anders: Yes I played in Germany before whit A.A Gustav have played whit his former band Apes IQ in Scotland Borgh has bean around the World whit Arcana Parkkila was on a Festival with Excruciate doing a stand in Vocal Söderlund around the world whit Charta 77.
Summon: What do you think of the US Black Metal/Death Metal scene?
Anders: Don't have much to say about the Scene in the US don't listen much at all to Death Metal from the US these days. More back in the 90s : Death, Massacre , Cancer , Malevolent Creation , Obituary , Deicide was my favorite band back in the days , but now I don't listen much to that kind of music.
Summon: What do you think of the Overseas scenes?
Anders: Don't have much to say about it , don't keep track of it.
Summon: What are some of new favorite black metal/death metal bands?
Anders: Don't have any favorite Death Metal bands right now And Black Metal I don't listen to at all.
Summon: When do you guys plan on writing any new material?
Anders: We have just finished our new Album- The Key To A Black Heart So the writing is on a little hold right now. But we're gonna start next year.
Summon: What does the future hold for the band??
Anders: Getting out the Bestial EP on Vinyl and releasing The Key to a Black Heart album on CD, Vinyl and Cassette! And take the world by storm hahahahaha kicking it in the face with these records , and do some Gigs. Over and out…….
Contact them at:
http://www.bloodmortized.com
http://www.facebook.com/BloodMortized